Blue water stretches to the horizon. Rolling dunes tower behind you, and a quaint harbor town sits along the shore. A gentle lakeside breeze sighs in from the water, and you sit down on white sands and watch the setting sun dye the clouds with vibrant pinks, oranges and reds.
You could experience a stunning sunset like this from any of the Great Lakes. The size of inland seas, the five Great Lakes hold 21 percent of the world's fresh surface water, and they have shaped the culture and commerce of North America for hundreds of years. The Great Lakes are majestic and breathtaking, the perfect destination for a relaxing vacation.
Of all the states in the Great Lakes Basin, Michigan borders the most water — the state has the longest freshwater coastline in the world with around 3,288 miles of lakeshore. On a trip to Michigan, you can visit four of the Great Lakes — Lake Michigan, Lake Superior, Lake Huron and Lake Erie.
That's a lot of lakeshore to cover in one trip — with so much to see and do, planning a visit to Michigan's lakes can feel overwhelming. To help you make the most out of your trip, we've created this visitor's guide to Michigan's Great Lakes to give you a starting point. Whether you want sun-filled days at the beach or hikes through sandy dunes, the Great Lakes have something to offer everyone.
How to Visit the Great Lakes of Michigan
When you decide to visit Michigan, your destination could be a single town or lake. If you are visiting for a day or weekend trip, this is a great strategy — even one beach in Michigan has enough to keep you entertained for the duration of your stay. However, if you have a little more time in your schedule, consider taking a road trip along Michigan's scenic coastline.

If you plan your trip strategically, it's possible to visit each of Michigan's Great Lakes in one vacation. You can find detailed itineraries online that give you day-by-day examples of a trip along Michigan's shoreline, and routes like the Great Lakes Circle Tour allow you to easily see the coasts of all four of Michigan's Great Lakes. Below, we've sketched out an outline to give you an idea of the scope of a Great Lakes road trip.
You can begin your route at Lake Superior in the north or Lake Erie in the south — both are excellent places to start a road trip through Michigan, and one point might make more sense than another based on your current location. In this sample route, we're beginning at majestic Lake Superior and making our way south to the more urban Lake Erie.
Attractions Surrounding the Great Lakes
Most of Michigan's borders are coastline. This means that there's a lot to see — you could spend a lifetime exploring the various towns and attractions filling the Great Lakes region. We've gathered just a handful of the beautiful sights to experience around Michigan's lakes — whether you are looking for quiet lakeside towns, historical monuments, sprawling beaches or untamed wilderness, the Great Lakes offer something for every traveler.
1. Lake Michigan
The shore of Lake Michigan is home to some of the country's most beautiful natural attractions. Known as Michigan's Gold Coast, the area is famous for its rustic orchards, world-class wineries, historic B&Bs and sprawling dunes.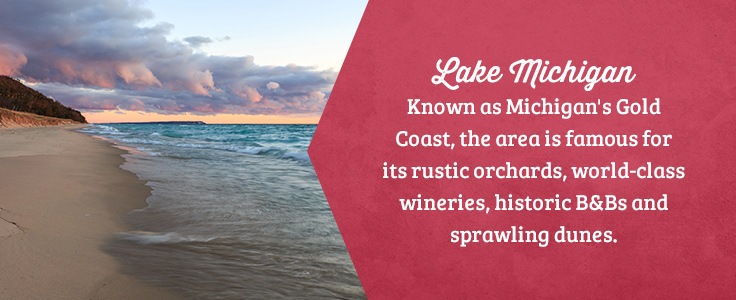 2. Lake Superior
The largest and northernmost Great Lake, Lake Superior offers stunning coastal views, rugged wilderness and pristine beaches.
3. Lake Huron
The second-largest Great Lake, Lake Huron lines Michigan's east coast. The area is known for both its stunning scenery and extreme weather — while over 30,000 lovely islands dot the surface of the lake, more than 1,000 ships lie at the bottom of its gray-blue water.
4. Lake Erie
Although Michigan doesn't share much coastline with Lake Erie, much of its lakeshore is close to large urban areas like Detroit. This means that the lake is easy to access, especially if you're looking for a quick day or weekend getaway.
Travel Considerations: What Time of Year to Visit Michigan's Great Lakes
Michigan is a place of dramatic seasons. From vibrant autumns and icy winters to bright, sun-filled summers, your Michigan experience is largely determined by the time of year you visit.
1. Michigan in Winter
Winter in Michigan is filled with drifting snow and clear, bright skies. Winter-weather activities such as ice skating, snowshoeing and cross-country skiing are popular during the cold months. Although much of Michigan is covered in deep snow in winter, you can still see some beautiful sights — if you venture into the upper peninsula, you might catch a glimpse of the stunning aurora borealis dancing over the shore of Lake Superior.
2. Michigan in Spring
As the winter snows begin to melt, Michigan erupts with life. Flowers begin to bloom along the road and trees send out new leaves to catch the gentle sunlight. While spring is often muddy and quite cool, it is also a beautiful time to visit the lakeshore. The conditions are perfect for fishing, and Holland's annual Tulip Time Festival is one of the state's most iconic celebrations.
3. Michigan in Summer
Summer is the season of warm, lazy days and relaxing nights. Summertime in Michigan is the best time to visit if you are looking to spend a day at and in the lake — the water and weather are both warm enough to make swimming fun and refreshing but watch out for mosquitos during June. Michigan summers are rarely sweltering, with temperatures hovering around 80 degrees Fahrenheit.
4. Michigan in Autumn
Michigan autumns are some of the most beautiful in the world. The trees erupt in vibrant colors, making it the perfect time for a road trip. If you visit Michigan's Great Lakes in autumn, you are sure to experience gorgeous scenery — take advantage of the season by taking a hike through breathtaking forests, picking apples in a local orchard or fishing for salmon in a secluded river.
Experience World-Famous Pizza Along the Great Lakes
No vacation is complete without high-quality food — enjoy the world-famous taste of Giordano's pizza along with the majesty of Michigan's Great Lakes.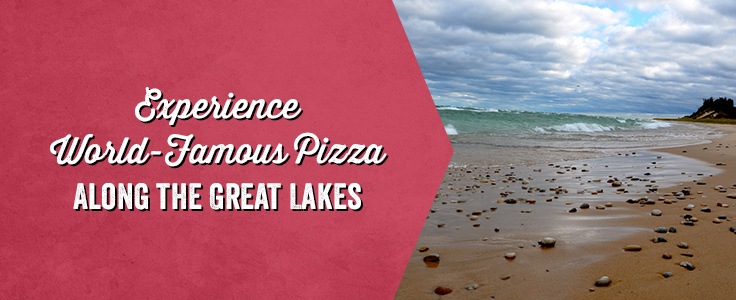 With fresh ingredients, perfectly flaky crusts and a signature recipe, Giordano's has provided authentic, Italian-style deep-dish for nearly 50 years. We have locations along both Lake Michigan and Lake Erie, so no matter what coast you're visiting, you can experience the iconic taste of Giordano's during your vacation.
The Great Lakes have something for everyone, whether you are looking for a relaxing day at the beach or a trip to one of the nation's most iconic lighthouses. Experience the beauty of the lakes for yourself — and don't forget to stop by Giordano's on your next visit!