Boca Park is a charming city to stay and play during your family vacation. Located less than a half of an hour away from the Las Vegas Strip, Boca Park is within a short drive of tons of family attractions for kids of all ages. Throughout the year, there are exciting family events happening around Boca Park like farmers markets, holiday parades and the annual Spring Fest.
Giordano's is nestled in the heart of Boca Park, surrounded by fabulous shopping centers that the whole family will love. Only a few minutes away from the famous Las Vegas Boulevard, Boca Park keeps you close to the action while being far enough away for your family to enjoy a relaxing vacation. From outdoor adventures to exciting indoor experiences, Boca Park offers a number of nearby family-friendly attractions that we recommend you check out.
Outdoor Adventures: Fresh Air & Family Events Near Boca Park
What better way to spend your vacation than by soaking up some of our warm Nevada sun? Squeeze on some sunscreen and get ready to enjoy a day in the great outdoors at these fun locations.
Red Rock Canyon National Conservation Area
Head a few miles west of Boca Park, and you'll find Red Rock Canyon. Located in the Mojave Desert, this gorgeous conservation area spans nearly 200,000 acres. Its visitor center has plenty of interesting indoor and outdoor exhibits, but the best sights are out in the canyon. Lace up the kids' walking shoes and venture out onto the hiking trails, where your family will find a surprising diversity of plants and animals. With camping, biking, scenic drives and excellent photo ops, Red Rock Canyon provides a breath-taking family adventure.
Wet'n'Wild
Beat the desert heat with a trip to Wet'n'Wild. This all-ages water park has 20 acres full of fun, thrilling and relaxing water rides. The Colorado Cooler lazy river, Paradise Falls children's area and Red Rock Bay wave pool are great places to splash with your young ones. Take the big kids to the deep end and take on Canyon Cliffs, Tornado, Hoover Half Pipe or one of the other 25 thrilling slides. Wet'n'Wild is the coolest place to have fun under the Nevada sun.
Red Ridge Park
Sometimes all you need to have a great family vacation is a picnic in the park. Stock up your picnic basket and take a quick drive south to Red Ridge Park. There are two separate playing structures for big kids and little ones alike. Play a quick game of disc golf or shoot some hoops until bedtime at the lighted basketball court. A splash pad, little league field and swing sets provide hours of free fun for families.
Make the Most of a Trip to the Strip: Part One
Taking the family out to the Strip for an afternoon of outdoor fun? With so many things to see and do, there's tons of excitement on the Las Vegas Strip:
Head behind the MGM Grand and hit a few balls at Topgolf. This high-tech driving range is fun for adults and kids alike.
Take a relaxing walk around Flamingo's free outdoor animal habitat or, for a thrill ride, take the kids to New York, New York to ride The Big Apple outdoor roller coaster.
Step away from the sun and cool down for an hour with a mouth-watering lunch. Come to Giordano's and grab a refreshing beverage, munch on some fried mozzarella triangles or sit back with a slice of our amazing stuffed pizza.
Indoor Excitement: Exciting Family Attractions Close to Boca Park
Whether you're running from the rain or taking a step away from the bright Vegas sun, you can find plenty of exciting indoor family activities in Boca Park that will keep you cool and comfortable.
battleBLAST
Fun is locked, loaded and ready to fire at battleBLAST. This laser tag experience is a safe, adrenaline-filled family activity that will light up your afternoon. Team up or take each other on in 15-minute battles that test your stealth and shot. Defend your base from attack in laser tag matches that combine capture-the-flag with hide-and-seek. An arcade and snack bar await you after a long day of battle, making battleBLAST an awesome attraction that parents and kids will love.
Flipperspiel Underground Arcade Club
Pinball, arcade and retro video games — what else would your kids rather be doing than spending the day playing games? Drive the family a little north of Boca Park to Flipperspiel Underground Arcade Club and play all day. With old-school games like Space Invaders, Centipede and Donkey Kong, the arcade offers parents just as much — if not more — fun than their kids.
Gravady Extreme Air Sports
Get the kids ready for the ultimate extreme air experience. Gravady has over 60 trampolines to keep your afternoon bouncing with excitement:
Test your skills on the Ninja Obstacle Course.
Dive into the foam pit or practice your balance on the SlackLine.
Play a round of Extreme Dodgeball.
Show off your basketball moves on the AirDunk.
Pretend you're starring in your own aerial Vegas show on the Trapeze.
With themed nights and family events all year, Gravady lets you jump into fun when you stay at Boca Park.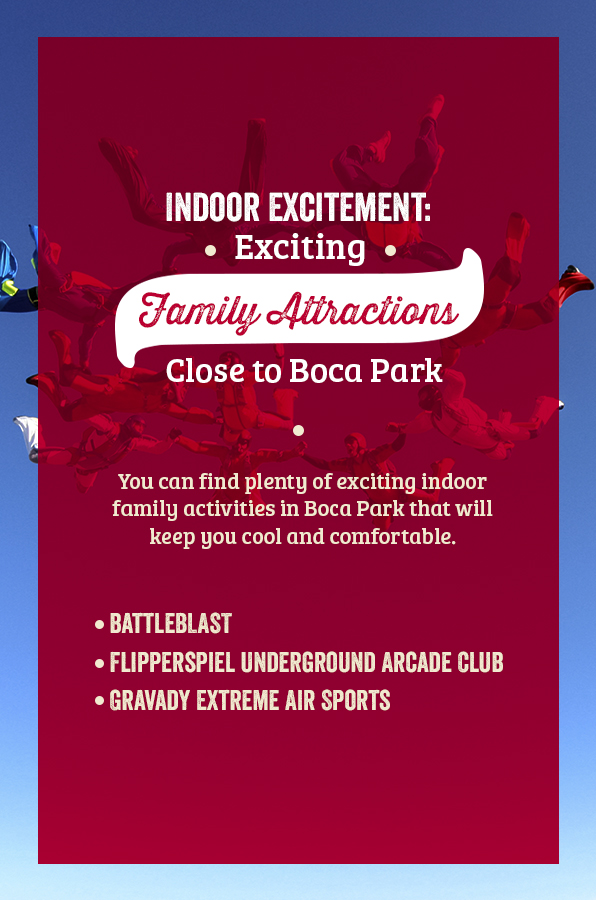 Make the Most of a Trip to the Strip: Part Two
Hit the jackpot with these family activities right along the Strip. Have an afternoon of fun at Twilight Zone by Monster Mini Golf. Located right beside Bally's, Twilight Zone has blacklight mini-golf, an arcade and bowling alley. If you happen to have a few superheroes in your family, don your capes and cowls as you head to Marvel's Avengers S.T.A.T.I.O.N at Treasure Island. For the ultimate indoor fun experience, make a beeline to Circus Circus and visit its incredible Adventuredome.
Accessible & Educational: Museums Near Boca Park
Even if school is not in session, vacation can be a perfect time to learn something new. Gather the kids and get your brain juices flowing — some of Nevada's coolest museums for children and families are right around the corner from beautiful Boca Park.
DISCOVERY Children's Museum
Learning and fun go hand-in-hand at this immersive museum that children and adults of all ages will enjoy. Step inside the DISCOVERY Children's Museum and prepare for an enhanced educational experience like no other. Put your thinking caps on and be prepared to interact with nearly a dozen different exhibits.
Scale the Summit tower and learn about science. Investigate challenging scenarios in Mystery Town. The young at heart will love Young At Art, where imagination comes alive. With a dedicated Toddler Town, wild Water World and fantastic Fantasy Festival, the DISCOVERY Children's Museum has hours of inclusive interaction that parents and children will love.
Springs Preserve
If you're looking for educational family fun, you can't beat Springs Preserve. Springs Preserve has 180 acres of adventure, excitement and interactive learning exhibits that will fill your day with laughter and learning. Although there are plenty of trails to hike and an outdoor playground to enjoy, Springs Preserve has so many indoor museums that even a rainy day won't slow you down. Explore at:
Boomtown 1905: Take a walk into the past and visit Boomtown 1905. This recreated historical streetscape gives you an up-close look at what Las Vegas life would have looked like in the early 1900s. You'll see original railroad cottages that used to be downtown, get your hands on some gold at the First State Bank, check in on the register at the old Lincoln Hotel, learn about the importance of the Las Vegas railroad at the Train Depot and even take a full-length train ride around the preserve.
Nature Exchange: Calling all collectors. The Nature Exchange gives children a chance to learn more about the planet with access to Springs Preserve's collection of natural artifacts from around the world. You'll see rocks, plants, insects and more as you tour this facility. Best of all, young collectors can exchange their own rocks, shells or other natural artifacts for one that's been brought to the Preserve from across the globe.
Origen Museum: With over 75 exhibits and an indoor theater, the Origen Museum is packed with knowledge. Gaze at dinosaur tracks that were found right in Springs Preserve. Find out how the Hoover Dam was constructed and learn about flash floods that suddenly occur in the Nevada desert. Live animal exhibits will get you up-close and personal with frogs, lizards, snakes, foxes, gophers and even Gila monsters.
Nevada State Museum: Learn about Nevada's rich cultural heritage and natural history from those who know it best. The Nevada State Museum contains over 70,000 square feet of space housing artifacts from millions of years ago. Go back in time and discover how geology shaped this land, which prehistoric beasts roamed freely around the state and what native peoples called this land home long before the miners arrived. With permanent and rotating galleries, the museum provides plenty of knowledge to gain for fans of nearly every subject.
Be sure to check the Springs Preserve calendar for family events, too.

Make the Most of a Trip to the Strip: Part Three
The Las Vegas Strip has much more than casinos and buffets. The Las Vegas Natural History Museum has tons of neat exhibits on Ancient Egypt, dinosaurs, the African rain forest, prehistoric wildlife and much more. Take a stroll through the Vegas Strip of yesterday and gaze at iconic Las Vegas signs from years past at the Neon Museum. The Mob Museum, Vegas' National Museum of Organized Crime & Law Enforcement, will give you an exciting look at the Las Vegas underground that was home to speakeasies and wiseguys.
Fun Family Photo-Ops
With all of the fun you're having around the Boca Park area, it can be easy to forget to take a few family photos. Get the group together and make sure you capture these memories forever:
Seven Magic Mountains: Think Stonehenge meets Dr. Seuss. Seven Magic Mountains is a natural art installation a little south of Boca Park. These seven pillars are made of massive 20-ton rocks, each painted a different color. Their vibrant greens, reds and pinks perfectly contrast with the brown Nevada desert. This colorful collection of rocks provides a simple yet special photo for your family.
Smith Center Sculptures: Close to the DISCOVERY Children's Museum is the Smith Center. This performing arts center has a five-acre campus that features outdoor exhibits, including sculptures and statues. One installation in particular, the Pipe Dream, is the perfect colorful backdrop for family photos. Forty pipes of 19 different colors stand at varying heights, coming together to represent notes of the classical composition "Fanfare for the Common Man" of 1942. There are many other beautiful works of art around the campus that will quickly fill your photo album.
Make the Most of a Trip to the Strip: Part Four
There's no way you can vacation near Las Vegas and not get a few unforgettable photos! Of course, your first stop should be the iconic Welcome to Fabulous Las Vegas sign. Head up Las Vegas Boulevard and check the other must-have-photos off the list, including:
The Eiffel Tower at Paris
The city skyline at New York, New York
The calm canals at the Venetian
The dancing fountains outside of the Bellagio
Snack Time, Any Time: Tasty Treats Near Boca Park
Got a sweet tooth? Indulge your cravings and hit the jackpot with these delectable dessert spots. Donuts for breakfast? Cupcakes for lunch? When you and the kids are on vacation, anything goes at these fun spots:
The Baking Cup: Head on over to the Summerlin Farmers Market for an unforgettable dessert. All of these yummy baked goods are free of artificial sweeteners and flavoring. Bakers whip up everything from macarons and mini pies to cookies, cupcakes and cakes. Stop by for a mini dessert or take a handful of cake lollipops to go.
German Bread Bakery: Say "guten tag" to some amazing, handmade German bread. The German Bread Bakery serves up freshly prepared baked goods from sun-up to sun-down. With cakes and cookies, pretzel stuff and pastries, this bakery is ready to share its family's heritage and break bread with yours.
Donut Mania: If you're looking for the perfect sugar rush, head straight to Donut Mania. With over 50 types of donuts for sale at the bakery, you'll be hard-pressed to pick just one. Stay satisfied with one of the classic donuts like the glazed, Boston cream or maple bar. Feeling fancy? Then chomp on a gourmet donut like the peanut Butterfinger cheesecake, the chocolate chip cookie dough-verload or the s'mores. What could be better than donuts? Donut ice cream sandwiches! For a quick breakfast or an after-dinner snack, Donut Mania aims to please.

Make the Most of a Trip to the Strip: Part Five
Simply walking down the lit-up Las Vegas Strip is an experience in itself. After a long day of exploring Boca Park, a relaxing stroll under the glitz and glamour of the Strip is an excellent way to end the night. Make it even better by first grabbing a delicious dessert. Stop into Hershey's Chocolate World and taste-test every Hershey Kiss imaginable. Or hop over to M&M'S World and customize your own personal blend of M&M'S with different colors, messages and images.
Want to have a hearty dinner before you dive into dessert? Giordano's has you covered with a freshly baked deep dish Chicago pizza, a plate of cheesy garlic bread and all of the garlic Parmesan french fries your kids can eat.
Enjoy Fun Family Activities Around Boca Park
The city of Boca Park is an ideal vacation location. Close enough to visit the Strip but far enough to enjoy shopping, dining and Nevada's natural wonder, Boca Park is a perfect place for your family to stay and play. Fascinating museums and spectacular scenic views are just minutes away from your hotel. Trust us — with so many family-friendly attractions in Boca Park, you'll make plenty of memories that last a lifetime.
Giordano's cherishes every family gathering. Our world-famous stuffed pizzas were born from Mama Giordano's beloved Italian Easter Pie. We're honored to share our Giordano tradition with your family. Stop by Giordano's Boca Park location on Charleston Boulevard for a warm slice of our Chicago-style deep dish or any one of our other fine Italian favorites. The best moments with family are often around the dinner table. Come to Giordano's in Boca Park and let our family make a memory for yours.