Whether you're visiting for the first time or you're a local looking for something new, you're on the lookout for some of the best restaurants in Denver. Lucky for you, Denver's restaurant scene has a lot to offer. You can enjoy a taste of the world or stick to Colorado flavors. Either way, something is bound to make your mouth water and satisfy your appetite.
Even the pickiest of eaters will find something delicious to love in Denver, from seafood favorites of New England to iconic southern BBQ. If you and your friends and family never pass up an opportunity for pizza, Giordano's in Denver has the solution, in the form of either a Chicago deep-dish or thin-crust pizza options. You can try something new or get your hands on some deep-dish pizza — the iconic Chicago-style favorite.
It's always good to have plenty of options for breakfast, brunch, lunch and dinner. Get to know the local restaurant scene in Denver, CO. Plan your trip around some of the Mile High City's top eateries or try something new in the city you call home today.

Famous Dining in Denver
Many of Denver's favorite dining spots serve local dishes and highlight local ingredients. For an iconic Denver dish, you can't go wrong with green chile. Green chile is a thick soup or stew usually made with Pueblo chiles, grown in Pueblo, CO. The Denver version of green chile is generally made with pork and tomatoes.
On restaurant menus, green chile might be served with pork, in a burrito or on its own. Check out Sam's No. 3 and El Taco de Mexico for an iconic taste of the city.
Some other unique eats you'll find in Denver and Colorado include:
Rocky Mountain oysters (if you've ever had Prairie oysters, you know exactly what these are).
Colorado lamb.
Colorado bison.
Olathe sweet corn.
Palisade peaches.
Craft beer.
Whether you chow down on a bison burger with a side of Olathe sweet corn or finish a meal with a dessert that features Palisade peaches, you'll get something fresh and flavorful. To try some of the above famous eats, check out restaurants in Denver that serve these classics:
Lamb: Colorado lamb has a rich flavor and unique texture that makes it for a must-have dish when in Denver. Luckily, many places in the city serve up this delicious option. Visit Spuntino for Colorado lamb shoulder, Tavernetta for gnocchi with lamb ragu or Safta for hummus with lamb ragu. No matter what style of cuisine you choose, you're sure to get tender and delicious Colorado lamb.
Bison: While it is lean meat, bison brings a lot of flavor to the table. Try the bison options at local restaurants in Denver like Tocabe, An American Indian Eatery offering bison ribs and tacos, Appaloosa Grill for bison meatballs or sausage and Ted's Montana Grill for bison burgers. If you usually order beef burgers or steak, mix things up a bit and order a Colorado favorite.
Rocky Mountain oysters: Adventurous eaters may want to try Rocky Mountain oysters, aka bull testicles. If you're feeling brave, try the unique dish at restaurants like Butcher's Bistro, Wynkoop or Buckhorn Exchange Restaurant.
Craft beer: Pair your iconic meal with an equally well-known beverage in Colorado. When you visit Denver, you have to try the locally-produced craft beer. Colorado is one of the largest craft beer-producing states in the country, with more than 400 breweries. A few places to sample Colorado-brewed beer include Epic Brewing Company, TRVE Brewing Company and Peak View Brewing Company.
Make sure you save some room for dessert. Palisade, CO is a town known for its agriculture. Palisade supplies the state with a variety of fruit, but it's best known for its supply of sweet and delicious peaches. The fruit is ripe for harvest around late June, so visit Denver starting in July if you want to sample some sweet Palisade peaches along with other Colorado favorites.
When you try any of these iconic Colorado dishes, beverages or produce, you know you're getting something fresh. Since these ingredients come from within the state, you'll get a seasonal meal that embodies the culture, agriculture and landscape of Colorado.

New Restaurants to Check Out in Denver
Want to support up-and-coming restaurants in Denver? Maybe you're always keeping an eye out for the next big foodie trend. Denver is bustling with fresh and exciting restaurants that feature flavors from around the globe.
When a new restaurant opens in Denver, locals and visitors alike flock to it. Don't be left behind when it comes to these newcomers. They offer a variety of cuisines, including:
New England Seafood and New York Italian: The West gets a taste of the Northeast with some new Denver additions. Check out Maine Shack for a lobster roll or bowl of clam chowder. Step into Lou's Italian Specialties for a New York-style deli experience, and walk out with one of their subs. You'll feel like you're on the East Coast without traveling to it.
Middle Eastern: If hummus and pita are your thing, Denver has a newer restaurant to satisfy your cravings. Fill up on small plates at Ash'Kara, offering an ambiance as inviting as the food.
Seasonal Selection: As restaurants adapt their offerings with the changing seasons, you're guaranteed fresh ingredients and mouthwatering meals. Visit Beckon for intimate dining with a rotating menu. You can visit multiple times throughout the year and never get tired of the ever-changing menu.
Southern Barbeque: Want some of the ultimate comfort food? Check out newcomers Owlbear Barbecue for a wide selection of meats or Post Oak BBQ for a variety of sides made on-site. Celebrate the summertime with classic BBQ flavors or warm up during the cold Denver months with a big plate of BBQ and sides.
European: From flavorful Mediterranean meals to light French fare, recent restaurants in Denver bring it all. For high-end French tastes, try out LeRoux. For small plates from all over Europe, visit Della Radice, which offers Italian, Spanish and French flavors. Get more French offerings in a modern atmosphere with Morin.
Historical Favorites in Denver
As good as the newcomers of Denver are, you can't go wrong with the old standbys. Denver is full of local restaurants that have been around for decades. With options like Mexico City Restaurant & Lounge or Jax Fish House & Oyster Bar in LoDo, which have been around since the 1960s, the city is full of classic eateries.
Traditional favorites offer anything from meals inspired by a simpler time to a casual ambiance that mimics ones from decades ago. No matter your preference, you'll find fun and tasty historical options like:
Classic date night meals at Bastien's Restaurant
A fun mix of Asian-inspired meals along with wings and pitchers of brew at Piper Inn
Raw seafood done right at Sushi Den
Traditional diner fare at Breakfast King
New Saigon Restaurant, which, despite the name, is among Denver's oldest Vietnamese restaurants
A mid-century casual experience at Columbine Steak House & Lounge
These restaurants and more have existed and persisted in Denver for different reasons. Some keep the classic vibe that brought diners in then and continue to do so now. Others spice things up with rotating menus or new additions over the years, inviting in regulars and new diners alike. No matter which one you visit, you know you'll get a tasty meal.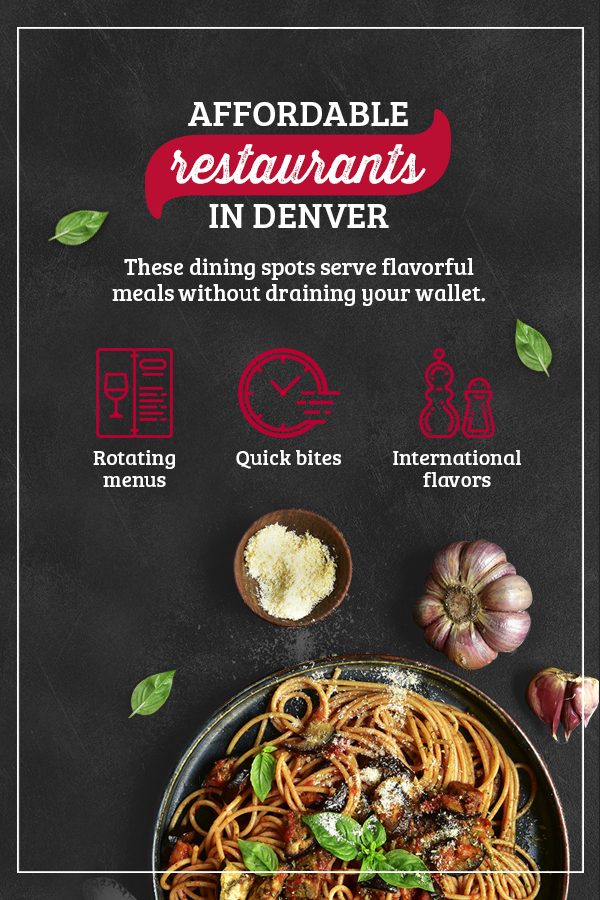 Affordable Restaurants in Denver
Whether you're on a budget or want to save up for a bigger night out, you should check out some of Denver's budget-friendly restaurant options. These dining spots serve flavorful meals without draining your wallet. Some of the city's most wallet-friendly places offer:
Rotating menus: Visit Quiero Arepas or Comal Heritage Food Incubator every day for something new. With a rotating menu, you won't get bored of these restaurants' offerings. The price of dishes won't drain your bank account, even if you go back for repeat visits.
Quick bites: If you're on the go in the city, you may not have time for a sit-down meal. Biju's Little Curry Shop and Chickee's Lil Kitchen make affordable food your way, and they do it quickly. Stop by for a quick lunch to fill up for the rest of your day.
International flavors: Looking for affordable Asian favorites? Try Pho Duy or Zoe Ma Ma to get your fill of dumplings and noodle soups. Want something from south of the border? Check out Illegal Pete's for burritos and queso.
No matter what you're craving, a bit of research can help you get a meal or drink on a budget. Search for happy hour specials throughout the city or see what restaurants offer midday or mid-week specials. If you'd like an affordable yet classy evening, check out happy hours at the wine bars in Denver, including:
Central Bistro and Bar
City O' City
Coohills
Mangiamo Pronto
Happy hour varies from location to location, so be sure to look into what days and times the specials run. You can even find bars that extend happy hour discounts to their food for even more savings.
Local Favorites in Denver
When you're traveling around Denver, you should go where the locals go. It's good practice to check out residents' favorites no matter where you visit. Talk to people who call Denver home to discover local favorites. You won't be disappointed with the variety of offerings, which includes:
American: True Food Kitchen, Old Major, Root Down and Citizen Rail offer their own takes on American favorites. Get contemporary favorites or delicious options for brunch, lunch and dinner.
Italian: If you're craving pasta, the locals would recommend Il Posto, Coperta, Quality Italian, Osteria Marco and Bar Dough. Rustic, classic or contemporary — whichever style you prefer, you're sure to find it in Denver with a comforting and filling Italian twist.
Latin-fusion: Denver offers local favorites that take Latin inspiration around the world. Bistro Vendome brings French cuisine and gives it a Latin twist for modern and unique creations. Señor Bear serves up Latin American dinners, brunches and drinks.
Mediterranean: Any favorites from Spain, France, Greece and other Mediterranean countries are a possibility at these local restaurants. El Five dishes out Mediterranean meals along with panoramic views, and Rioja offers locally-sourced Mediterranean dishes paired with a selection of wines.

Pizza in Denver
While sampling iconic Colorado dishes or local Denver favorites can enrich your visit, sometimes you want something classic. Lucky for you, Denver has plenty of pizza options, which will satisfy even the pickiest of eaters.
You could get a standard pizza, but with so many unique offerings in Denver, why not branch out and try something new? At Giordano's, we offer mouthwatering stuffed deep-dish pizza and thin-crust options for those who want a taste of the familiar.
Whether you're a Chicago-native missing a taste of the Windy City or you're wondering what all the fuss is about, deep-dish pizza from Giordano's in Denver is for you. Here's what you'll find at Giordano's:
Gluten-free options
A menu full of choices for any taste
A convenient location in the heart of the Central Business District
Delicious, Wisconsin-sourced mozzarella
Slow-baked, double-crust pizza
We're proud to serve up some of the best pizza in Denver, CO. Don't wait for your next trip to Chicago for the classic taste of deep-dish pizza. Enjoy the sights of Denver then stop in for a deep-dish delight at Giordano's. You'll also find thin-crust pizza, sandwiches, pasta and starters on our Denver menu. Pay us a visit in Denver for a taste of Chicago and much more.