From soaring peaks to mountain lakes and ski resorts to towering cliff-sides, Colorado is one of the most beautiful states in our country. Whether you're an outdoorsy person who loves chasing that next adrenaline high, a history buff following the trail of your latest historical or a wide-eyed tourist just looking to drink in one beautiful mountain vista after another, there's something for everyone to enjoy here.
If you live in or near Colorado, there's a good chance you've already visited a lot of the state highlights, giving you time to search out the more hidden gems tucked away around the state. If you've never visited Colorado, however, it can feel overwhelming. With so much to see and do, how can you possibly narrow down the most important places to visit in Colorado in just the length of a weekend or week-long trip? How do you know how to prioritize one site over another?
If you have a Colorado visit in your near future, then we want to help you out by introducing you to the top places to visit in the state. We'll pull from a wide range of different sites and activities, giving you plenty of options to choose from. Whether you're the type who can't wait to go mountain biking or someone who'd rather quietly browse a museum, there's something for you on this list.
Top Colorado Places to Visit
If you're packing your bags for a trip to Colorado, consider adding some of these 12 destinations to your travel itinerary.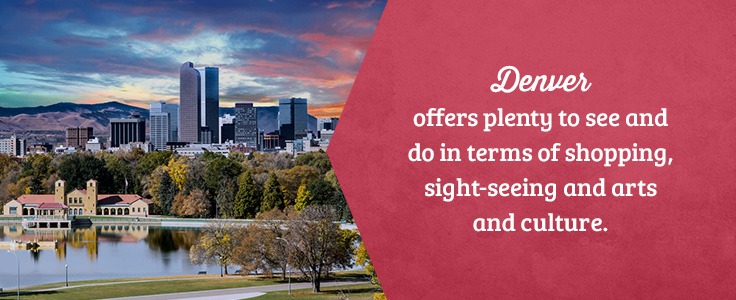 1. Denver
As the capital of the state, it should come as no surprise that Denver ranks high on the list of places everyone should visit in Colorado. Not just a major cultural hub or a hot-spot for hiking and outdoor activity, Denver boasts the best of both worlds and has something to offer everyone, no matter how they like to spend their vacation time.
Denver offers plenty to see and do in terms of shopping, sight-seeing and arts and culture. Unlike cities such as New York, where everyone is in a hurry to get somewhere, Denver has a more laid-back feeling, and the city is laid out in such a way as to be very friendly towards those just looking to stroll the sidewalks and window shop. Tourists could easily pass a day just exploring the city, popping into whatever delicious restaurants, breweries, galleries or stores catch their attention.
Some specific highlights in Denver that are worth your time as you pass through include the Denver Zoo, the Greenway Trail, the Golden Triangle Museum District and the Denver branch of the U.S. Mint. You'll also want to be sure to hit up Denver Union Stations in Denver's LoDo district, which is bursting at the seams with trendy bars and restaurants and artisan boutiques all packed into this single historic site.
2. Denver Art Museum
Yes, we already gave Denver its own shout-out, but the Denver Art Museum is so spectacular it deserves its own mention. Not only does this museum house more than 70,000 unique works of art, but the buildings themselves are gorgeous. The award-winning Hamilton building — which you can easily spot due to its iconic angles — serves as the museum entrance.
Visitors to the museum can browse seven floors of artwork, including pieces from Western, Native American and regional collections. And while certain items are permanent collections of the museum, other exhibits come and go, meaning you'll want to check to see what's new when you make your visit.
3. Red Rocks Park and Amphitheater
If you're already visiting Denver, then it's just a hop, skip and a jump to the gorgeous Red Rocks Park and Amphitheater, located just outside the city. This park is famous for its iconic outcroppings of red rock that dominate the landscape. Far more than just a place of natural beauty, this site has also been transformed into a modern-day amphitheater that regularly hosts big-name music acts in the pristine outdoor beauty of the red rock formations.
If you're planning on heading to Colorado, it's worth looking up the amphitheater schedule to see who's coming to play. You just might be able to catch an awesome concert while you're here, in one of the most beautiful outdoor theaters in the world.
4. Colorado Springs
The second largest city in the state may not get quite as much buzz as Denver, but that doesn't mean you should discount it as a city worth visiting. Colorado Springs has so much to offer that you could spend weeks there and still not see it all.
Resting just at the eastern foot of the Rocky Mountains, Colorado Springs is home to the beautiful Pikes Peak, the soaring cliffs of the Garden of the Gods and the striking views at Red Rock Canyon, not to mention the dozens of other hiking trails winding around and through the mountains at the edge of the city. While this city isn't a major skiing destination, there's still plenty for the outdoor enthusiasts to enjoy, such as wild white water rafting down the Royal Gorge.
If you'd rather keep your feet firmly planted on the ground and aren't much for hiking, however, there's still plenty to see and do. Check out the wildlife at the many local parks and nature preserves, or learn about the local history and culture at the Colorado Springs Pioneers Museum or the Colorado Springs Fine Arts Center.
5. Mesa Verde National Park
A visit to Mesa Verde National Park is the perfect way to combine outdoor adventure and activity with cultural and historical learning. This unique park exists to protect and preserve the heritage of the Pueblo People who lived there hundreds of years ago in unique dwellings they built directly into the sides of the park's towering cliffs. These dwellings have long stood empty now, but the park continues to preserve them so future generations can learn about the history that took place there. Altogether, this park is home to nearly 5000 archaeological sites stretched across more than 40 miles of roads.
Visitors to the park can stop at the Visitor and Research Center to learn more about the park, drive the long leisurely trail for stunning views stretching as far as northern New Mexico and even participate in ranger-guided walking tours that let them get up close and personal with the cliff dwellings themselves. Keep in mind that while much of the park is open all year long, some sections will only be open seasonally, so you'll want to plan for which sections of the park will be available to you when you get there.
6. Aspen
For winter sports enthusiasts, there's no better destination than Aspen. While it isn't a large city, what it lacks in population it makes up for in the sheer abundance of winter sports of all types. Here, you can try your hand at skiing, snowboarding, snowmobiling, ice skating, snowshoeing and even dog sledding. If your trip happens to take place in the summer? Don't worry, there's lots to do during the warmer months, as well. Why not go horseback riding, white water rafting or hiking through the White River National Forest?
Based on this short list alone, we hope it's clear — for anyone looking for outdoor adventures and excitement, Aspen is a must-visit place to be sure to add to your list.
7. Durango & Silverton Narrow Gauge Railroad
So much of our images of the old west are tied up with images of cowboys, stagecoaches and old-fashioned trains. So would any trip to Colorado be complete without a ride on the Durango & Silverton Narrow Gauge Railroad, a heritage railroad that operates along 45 miles of train tracks all designed to take you back to the days of the wild, wild west?
This vintage locomotive offers a family-friendly experience that showcases some of Colorado's best views, all from the safety and comfort of a train as you follow the same route that trains used to take to transport gold and silver from the mines. And while you can ride this train on any day of the year, the railroad also puts on a variety of special events throughout the year, from photographers' rides, cowboy poet rides and even Polar Express inspired rides around the holidays.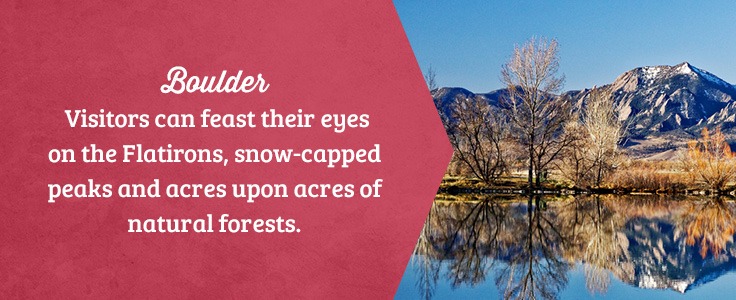 8. Boulder
As another one of Colorado's beautiful mountain-ringed cities, Boulder offers plenty of beautiful scenery to enjoy. Visitors can feast their eyes on the Flatirons, snow-capped peaks and acres upon acres of natural forests. Hiking trails wind through all of these sites, allowing you the chance to see them up close and personal.
You'll have plenty to do in town, as well. The city offers museums, theaters, art galleries and exhibits for a peek into local culture and history. If you love sampling local cuisine, you'll especially love Boulder, as this city is home to some truly spectacular farmers markets, breweries and, of course, the famous Dushanbe Tea House.
9. Black Canyon of the Gunnison National Park
For sheer drama, majesty and overwhelming natural beauty, there's no better place to visit than the Black Canyon of the Gunnison National Park. This enormous canyon was carved out over the course of thousands of years by the Gunnison River, and now is home to some of the steepest cliffs and most rugged spires in the entire country.
Visitors to this stunning site can content themselves with hiking around the rim of the canyon, climbing down into the depths or even camping at one of the park's campgrounds.
10. Great Sand Dunes National Park
When you think of Colorado, you probably think of snowy peaks, pine forests and mountain lakes. If there's one thing that probably doesn't spring to mind, however, it's sand dunes. Despite this assumption, southern Colorado is home to Great Sand Dunes National Park, which contains the tallest sand dunes in all of North America.
While the vast sand dunes form the centerpiece of the park, they're far from the only attraction here. The park also contains alpine lakes, boggy wetlands, grasslands, tundra and deep forests, all within a short distance of one another. The park is also open all night, allowing for camping opportunities in addition to all the daytime activities. When the sun is shining, visitors can go hiking, sand sledding and play on the beach before retiring to their campground when the stars come out for a breathtaking view of the clear Colorado skies.
11. Breckenridge
Breckenridge doesn't have nearly the level of national fame as many of Colorado's other cities, but that makes it all the better, as it won't be quite as tourist-filled as many of the state's other famous spots. This city was originally settled during the mid-1800s as a mining town during the gold rush, and much of this Victorian history is still plainly visible throughout the streets, making it a unique site to visit.
For those interested in the history and culture side of things, tourists can enjoy things like the Historic, Haunted and Gold Mining Tours that teach about the town's exciting history. If you're interested in the world of winter sports, Breckenridge is one of the best ski resorts in the state — and perhaps even the entire country. So whether you're into the history of the gold rush or skiing, be sure to include this unique town on your must-see list.
12. Rocky Mountain National Park
If Colorado is the heart of the Rocky Mountains, then the Rocky Mountain National Park is the heart of Colorado. This enormous park encompasses 415 square miles of beautiful wilderness, including miles upon miles of trails, mountains, forests, overlooks, fields of wildflowers and endlessly starry skies. While hiking is an obvious choice for visitors to this park, there are plenty of other things to keep you busy on your visit. Some tourists choose to spend their time horseback riding as they explore the park, others enjoy four wheeling, and still others prefer to go rafting or fishing in the beautiful rivers that run throughout the park.
Summer isn't the only season you can enjoy the park, either. There's plenty to do in the winter, including cross-country skiing, sledding and snowshoeing. Be sure to check the weather conditions before arriving, however, as last-minute storms may cause sections of the park to close for safety reasons.
Don't Forget to Grab a Bite to Eat
After all your hiking, rock climbing, white-water rafting, shopping and sight-seeing, you're going to want to take a load off, find a restaurant and relax. Why not stop by our Colorado location here at Giordano's in downtown Denver?
Even though you're in the Mile High City, there's no reason you can't still enjoy the classic taste of deep-dish Chicago-style pizza with all the toppings and cheese you love. Pizza isn't the only thing we serve, either — you can also enjoy a heaping helping of pasta, salads, sandwiches and appetizers, plus plenty of options for the kids. And if you're too tired to head out to a restaurant after a long day of excitement? We offer delivery options, as well.
No matter where your adventures take you, Giordano's is the perfect place to satiate your hunger. Browse our menu today and start planning the perfect meal to enjoy after a busy day in the beautiful state of Colorado.