Minnesota is a state that's jam-packed with natural beauty. Although Minneapolis may be home to the Vikings, the Mall of America and Target's headquarters, this city embraces Mother Nature in every way possible. Those who live in or around the Twin Cities take every opportunity to enjoy the sprawling parks and picturesque lakes that make Minneapolis a top spot for nature lovers. Next time you're in the Land of 10,000 Lakes, be sure to plan a trip to these magnificent Minneapolis parks.
Loring Park
Why you should visit: Chances are high there's an exciting festival going on in this downtown park.
Whether business or pleasure has brought you to Minneapolis, it's likely you're staying pretty close to downtown. If so, make sure a stop at Loring Park is on your agenda. Thirty-four acres play host to a variety of events throughout the year, including Rock the Garden, Holidazzle and the Loring Park Art Fair. This relaxing oasis in the middle of downtown comes alive when festivals and concerts fill the space. It's also within walking distance of the nearby Basilica of St. Mary.
Deep-dish tip: Loring Park is a short walk away from the Minneapolis Sculpture Garden, making it effortless to see two of Minneapolis' best parks in a single trip. Since this is the largest urban sculpture park in the world, you'll have trouble picking only one of the 40 art installations as your favorite. Loring Park is also close to the Walker Art Center if you're in the mood to see amazing works of art and performances indoors.
Minnehaha Regional Park
Why you should visit: The quaint, yet majestic, Minnehaha waterfall is a perfect spot for a photo-op.
Located close to the Minneapolis-Saint Paul International Airport, the town of Minnehaha has a beautiful park where the Minnehaha Creek connects Lake Hiawatha to the Mississippi River. This scenic area is one of the oldest parks in the city and is perhaps one of the best-kept secrets in town. Escape from the hustle and bustle of the city and enjoy a relaxing hike through Minnehaha's trails. It's also conveniently located right next to a light rail stop for those going to the airport or Mall of America.
Deep-dish tip: Other fantastic outdoor destinations surround Minnehaha Park, including Lake Nokomis Park, the Coldwater Spring historic site and Fort Snelling. If you happen to be in Minneapolis during the winter, don't get discouraged! Bundle up and grab a great photo of the frozen Minnehaha Falls.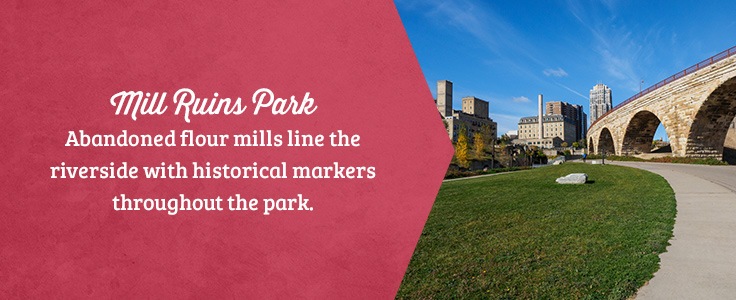 Mill Ruins Park
Why you should visit: Get a glimpse into the history of the city, as well as an unmatched view of the Minneapolis skyline, in an area of town that was once home to the flour mills that put Minneapolis on the map!
Immerse yourself in the history of Minneapolis with a trip to Mill Ruins Park, in the West Side Milling District. Abandoned flour mills line the riverside with historical markers throughout the park displaying information regarding the significant impact this industry had on the city. A trip to Mill Ruins Park is a cultural adventure you can take on foot or atop a bicycle. Be sure to learn more about this historic area with a quick visit to the Mill City Museum.
Deep-dish tip: Don't just admire the beauty of the old stone railroad bridge. Cross the Stone Arch Bridge and head over to Father Hennepin Bluffs Park for another gorgeous riverfront experience.
Father Hennepin Bluffs Park
Why you should visit: Follow the signs and take a walk along the park's lower trail — you'll feel like you're miles away from city life!
Across the Stone Arch Bridge from Mill Ruins Park is another reason to plan a trip to Minneapolis parks — Father Hennepin Bluffs Park. The gem of the park is the St. Anthony Falls, but the unpaved lower trail offers splendid natural views at the edge of the Mississippi River. For those who would rather relax than walk, Father Hennepin Bluffs Park is an excellent place to set up a picnic and enjoy Mother Nature just a few short blocks from downtown Minneapolis.
Deep-dish tip: Be sure to head over to the St. Anthony Falls visitor center for a free tour of the lock and dam.
Powderhorn Park
Why you should visit: Avid fishers know this lakeside park has plenty of catfish, crappies and sunfish waiting to be caught.
Those lucky enough to live in the Powderhorn Park neighborhood enjoy several annual events that take place in the park, including the Powderhorn Arts Festival and May Day Festival. When sponsored events aren't on the calendar, Powderhorn Park offers plenty of other activities, including sand volleyball, a wading pool, ice skating rink and football field.
Deep-dish tip: Are you traveling alone and want to spend a few hours quietly enjoying one of the prettiest parks in Minneapolis? Head down to Powderhorn Park with a cup of coffee and pick out a book from their Little Free Library. Before you settle down to read, be sure to bring an old book of your own to give back to the community.
Theodore Wirth Regional Park
Why you should visit: Walking, biking and off-road cycling trails, complemented by a snowboard park, cross-country ski trail and tubing hill, make this Minneapolis park a great place to visit all year long!
If you want to get moving in the fresh Minnesota air, Theodore Wirth Regional Park has plenty of outdoor activities for you to choose from. Located west of downtown, this vast park has over 700 acres of space for you to enjoy the great outdoors. How do you want to spend your trip? Driving a few balls on the golf course, fishing off the pier or trying your hand at archery? From soccer and tennis to playgrounds and more, don't miss the amenities at this amazing park!
Deep-dish tip: Spending more than a few days in Minneapolis? The Loppet Foundation at Theodore Wirth Regional Park hosts winter adventure camps and ski camps, as well as summer adventure camps, for children every year.
Como Regional Park
Why you should visit: Those in town for the Minnesota State Fair need only travel a mile down the road to one of St. Paul's best parks!
This outdoor haven is the recreation destination for residents of St. Paul. Whether you're staying in the capital city or taking the short drive from Minneapolis, Como Regional Park is worth exploring. Miles of paved trails, four ball fields and a giant play area are only a few of the many activities you can enjoy at Como. Take a dip in their pool, play a round of golf or mini golf and end the evening cooking out on one of their grills.
Deep-dish tip: Looking for a way to extend your visit to Como Park? Spend some time at the Como Park Zoo & Conservatory. Attractions include an amusement park, mini golf, a marketplace, green gardens and, of course, the chance to see stunning animals like the Arctic fox, Galapagos tortoise, sloth, spider monkey and puffins.
Prettiest Parks in Minneapolis Near Giordano's
Expect to find beautiful lakes and spacious parks within a few miles from any point in the city. With so many great outdoor spaces to choose from, you may be wondering where to begin. Now, we're not assuming you came all the way to the North Star State for a hot and cheesy deep-dish pizza, but if you happen to be dining on the best pizza to ever come out of Chicago, take advantage of our location and head to one of these beautiful parks nearby.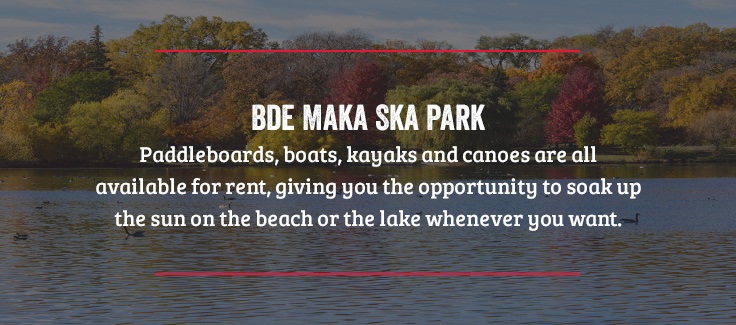 Bde Maka Ska Park
Why you should visit: There's no better way to enjoy Minnesota's warm months than in a canoe, kayak or paddleboard atop the Bde Maka Ska Lake.
Once known as Lake Calhoun, this lakeside park just recently reverted to its original Dakota name, meaning "White Earth Lake." Although you can walk or play softball, volleyball and soccer, we believe you'll spend your best time on the water. Paddleboards, boats, kayaks and canoes are all available for rent, giving you the opportunity to soak up the sun on the beach or the lake whenever you want. Bde Maka Ska Park circles the lake, which means there's plenty of beach space available.
Deep-dish tip: Did you know you can order a fresh Giordano's pizza to go? Grab a pie, a few cold beverages and relax on the Bde Maka Ska beach with your family and friends.
Lyndale Park
Why you should visit: Four gorgeous gardens, including the country's second-oldest rose garden, await those who seek out this peaceful retreat.
A trip to Lyndale Park literally inspires you to stop and smell the roses. The Peace Garden is an official International Peace Site. From May until the first frost, the Annual-Perennial Garden is always blooming with beauty, while the Butterfly and Hummingbird & Perennial and Border Gardens provide a tranquil place for you to wander. This relaxing area is a perfect way to visit Minneapolis parks on your next visit.
Deep-dish tip: Bird watchers can't miss a trip to the Roberts Bird Sanctuary. This 31-acre preserve has more than 200 diverse species of birds nesting along the wetlands, forest and prairie within the park. Be sure to bring your binoculars!
Lake Harriet Park
Why you should visit: Adjacent to Lyndale Park, Lake Harriet Park features a castle-like bandshell within the park that is the signature venue for the Minneapolis Music and Movies in the Park event series.
Lake Harriet is buzzing with things to do throughout the warmer months, and you'll quickly notice Minneapolis natives take advantage of it. Spend some time picnicking on one of Lake Harriet's two beaches while your children play in the Tot Lot. Stroll along the walking path and garden, or launch your boat and enjoy the lake's calming water. Hungry? Stop by Bread & Pickle restaurant from spring through fall. Their menu has everything from breakfast and sandwiches to sweet treats and more.
Deep-dish tip: Keep your eyes peeled for an old ash tree that, according to legend, is home to tiny elves. While we're not sure if these are the type of elves that make cookies or shoes, we have heard one fun secret — if a visitor leaves a letter underneath the elves' door, they might receive a response within a couple of days!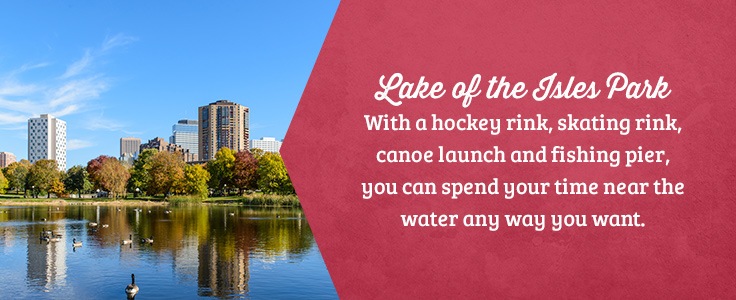 Lake of the Isles Park
Why you should visit: Tourists and locals say this lake, while one of the three largest in Minneapolis, is much less crowded on average compared to its neighbors Lake Harriet and Bde Maka Ska. Lake of the Isles Park is an excellent space for a solo run or for couples who want to enjoy strolling hand in hand.
Located two blocks away from the best pizza in Minneapolis, Lake of the Isles Park is worth a quiet evening walk. The pathway leads you around the lake for roughly two and a half miles, where you'll gaze upon beautiful homes and the Minneapolis skyline peeking out over the trees. With a hockey rink, skating rink, canoe launch and fishing pier, you can spend your time near the water any way you want.
Deep-dish tip: Traveling with your furry friend? Lake of the Isles Park is the perfect place to bring the entire family. Their off-leash dog park is an excellent area to let your pet enjoy Minnesota's great natural spaces.
Plan a Trip to Minneapolis Parks
Minneapolis is a fantastic city. Our champion sports teams, unparalleled shopping experiences and friendly Minnesotan culture are reason alone to visit the Twin Cities. However, residents and visitors will agree our region's geography has made our public parks and lakes one of the best features of the city. Whether you like to boat, fish, ski or skate, there's plenty of space for fun recreational activities throughout our city parks. Outdoor adventure seekers needn't go far for scenic views. The question, then, isn't why visit Minneapolis parks — it's which park will you visit first?
Twin City foodies know the best place to go for Chicago-style deep-dish pizza is Giordano's. Since 1974, we've been serving up Mamma Giordano's famous Italian Easter Pie to pizza lovers from around the world. Our mouthwatering menu has no shortage of crowd-pleasing options you know and love, like cheesy garlic bread, Italian beef sandwiches, spaghetti and meatballs for the kids and, of course, Chicago's favorite stuffed pizza. We make every pie exactly how you want it using only the freshest ingredients.
Giordano's Minneapolis location is lucky enough to be surrounded by awe-inspiring lakes and parks. Minnesota is a gorgeous state, and the Twin Cities embrace nature in all its glory at every opportunity. Even in the winter, when temperatures can drop faster than the snowflakes, our city parks provide people of all ages a safe and fun place to enjoy the outdoors during any time of the year. No matter which parks you choose to explore, we invite you to add delicious deep-dish pizza to your itinerary.