Ohio offers something for every type of tourist. Cosmopolitan cities like Cleveland and Columbus are home to world-class museums, the countryside offers interesting cultural attractions like Amish Country, and its national and state parks are fantastic destinations for hiking, biking and a variety of other outdoor adventures. If you're planning a trip to the Buckeye State and are currently looking for destinations to add to your itinerary, read our list of the best things to do in Ohio.
1. Rock & Roll Hall of Fame
Located right on the shore of Lake Erie, Cleaveland's Rock & Roll Hall of Fame provides an in-depth look at various periods of rock and roll history and the legendary artists that defined them. This massive museum features seven floors of memorabilia including Bono's first guitar, John Lennon's report cards and Michael Jackson's mask from "Thriller." One of the must-see areas is the wing that features inductees to the Rock & Roll Hall of Fame. Designed by the celebrated I. M. Pei, this building is one of the city's most iconic structures.
The museum is located at 1100 Rock and Roll Boulevard.
2. National Museum of the U.S. Air Force
The National Museum of the U.S. Air Force, which takes you on an exciting journey through the history of aviation, is one of the best free places to visit in Ohio. Located in Dayton, this museum features over 360 aerospace items in outdoor and indoor exhibits. This museum is extra special to this state since the Wright Brothers were Ohio natives. From Orville and Wilbur to space travel, military aircraft and today's stealth technology, this museum boasts a wide variety of attractions. Make sure not to miss the Presidential Gallery, which displays well-preserved airplanes used by Franklin D. Roosevelt, Harry Truman and Dwight D. Eisenhower.
The museum is at 1100 Spaatz Street in Dayton.


3. Cedar Point
Cedar Point is one of Ohio's most popular summer destinations and attracts visitors from around the world. Located on Lake Erie near the city of Sandusky, this amusement park offers an excellent mix of modern, thrilling roller coasters and old carnival classics like carousels and Ferris wheels. The park boasts 18 world-class roller coasters, many of which offer beautiful views of the lake.
Located next door to Cedar Point is the equally exciting Cedar Point Shores Water Park, which can be especially refreshing on the hottest days of summer. From the relaxing lazy river and wave pool to the adventurous a six-story water slide, all visitors can easily find water attractions that they love. The resort offers many different types of accommodations, including camping, cabins and suites.
Cedar Point's address is 1 Cedar Point Drive in Sandusky.
4. Amish Country
If you want to take a break from your complicated, urban life and retreat to a place where people live simpler ones, take a drive through Ohio's beautiful Amish Country, where you can see buggies on the winding roads and farmers working in the fields. You can also stop off to buy some locally made cheese, produce, candy, ice cream and much more.
Although Amish Country spans several countries, the best way to introduce yourself to the area is by taking the Amish Country Byway, a 160-mile system of roadways that feature charming, rustic homes and B&Bs. If you have a few days to spare, you can check out some of Amish Country's other popular attractions:
Yoder's Bargain Store: This bargain store is frequented by many Amish in the area and sells an extraordinary variety of goods, including cookware, glassware, wool hats, purses, religious figurines, candy and trinkets that cost significantly less than those found in traditional stores.

Walnut Creek Cheese

: This store sells an abundance of fresh, homemade food and is an especially popular stop for cooks, who come here buy ingredients in bulk.

The Victorian House Museum

: Located inside a beautiful 28-room Victorian house in Millersburg, this museum offers a wealth of information on the history of the state's biggest Amish settlement. A great time to visit the museum is in the winter months, when the museum is adorned with beautiful holiday decorations.
5. The Cleveland Museum of Art
The Cleaveland Museum of Art has been one of the city's most popular attractions for over a century. Its collection has been internationally recognized since the 1950s and is constantly growing and changing. Today, the museum focuses on several different areas, with its most notable collections in European, American and Asian art.
The address to the museum is 11150 East Boulevard in Cleaveland.
6. Cuyahoga Valley National Park
Cuyahoga Valley National Park is the only national park in the state and is a quick drive from downtown Cleaveland. The main attraction of the park is the gorgeous Cuyahoga River, which boasts over 70 waterfalls and meanders through rolling hills, sandstone ledges and gorges. To enjoy the best views of the valley, you can take one of the park's hundreds of miles of hiking trails or — if you're not a serious hiker — you can hop on the Cuyahoga Valley Scenic Railroad. The latter is also recommended if you're short on time.
7. The Toledo Museum of Art
Like its Cleaveland counterpart, the Toledo Museum of Art is one of the most outstanding attractions in the city and has been around for over a century. The museum's extensive collection includes everything from Egyptian, Greek and Roman pieces to European and American paintings and contemporary art. Their glass collection is a must-see, which is housed in six buildings, one of which features a stunning Greek facade. The Glass Pavilion, which houses galleries and glass-blowing studios, is a distinctive, postmodern building with an entirely glass exterior.
The Toledo Museum of Art is located at 2445 Monroe Street.
8. The Franklin Park Conservatory and Botanical Gardens
Columbus' Franklin Park Conservatory and Botanical Gardens is open year-round and has both outdoor and indoor exhibits of plants, with special exhibits that change all throughout the year. You can marvel at their exotic plants from all across the globe, featuring hundreds of species from the rainforest and the Pacific Islands to the desert and the Himalayas. The historic Palm House, which features 43 palm species from all over the world, is a favorite venue for weddings.
This attraction is found at 1777 East Broad Street in Columbus.

9. The Columbus Zoo and Aquarium
The Columbus Zoo and Aquarium consistently ranks among the best zoos in the country. It features over 10,000 animals and six regions, including North America, Asia Quest and Congo Expedition. Visitors can also enjoy special education programs and stage performances throughout the year. During the wintertime, many visitors come for Wildlights, a dazzling celebration illuminated by over three million colorful lights. This event usually runs from the end of November to end of the holiday season and is a unique way to see zoo animals and enjoy the Ohio winter. In the summertime, you can top off your zoo adventure with a visit to the Zoombezi Bay water park, a popular attraction next door.
The zoo is located at 4850 Powell Road in Powell.
10. Hocking Hills State Park
Hocking Hills State Park is a rugged natural area located near Logan. Outdoor enthusiasts love it for its hiking trails, caves and overall scenic beauty, especially in the autumn, when the leaves are turning in the wooded areas. Visitors to the park can attend photography events, birdwatching events and go on hikes, including a popular winter hike that attracts thousands of hikers every season. Make sure to take a look at the park's event calendar before visiting. There are also outfitters in the area that offer other outdoor activities such as rock climbing, canoeing and zip lining. The most popular areas for visitors are Cedar Falls, Old Man's Vace, Rock House, Cantwell Cliffs and Ash Cave, the last of which is wheelchair accessible.
11. Contemporary Arts Center
Cincinnati's Contemporary Arts Center boasts cutting-edge, new wave modern art, with exhibits focused on technology, history, politics and music. There is also an excellent education program that teaches visitors about the history of modern art and its significance. In addition to its exhibits, the center also has a cafe, meeting rooms, a common area and spaces that you can rent out for parties and weddings. You can visit the museum Wednesday through Monday, and the admission is free.
The center is located at 44 E. 6th Street in Cincinnati.
12. The Cincinnati Museum Center
The Cincinnati Museum Center is a massive complex of several museums that include the Duke Energy Children's Museum, the Cincinnati History Library and Archives, the Cincinnati History Museum and the Museum of Natural History and Science. The combined collections of these museums boast an impressive 1.8 million artifacts, so if you want to see everything, you'll probably have to set aside several days. If you're short on time, make sure not to miss the train station building from the 1930s done in the Art Deco style.
The center is located at 1301 Western Avenue in Cincinnati.
13. West Side Market
The West Side Market attracts a wide variety of visitors and vendors. In operation since 1912, this market has been one of Cleaveland's must-see attractions for over a century. You can enjoy a vast array of foods such as succulent seafood and fresh produce, dairy products, poultry and meats. You can also enjoy specialty products including Polish pierogies, handmade pasta, homemade maple syrup, Mediterranean and Middle Eastern food, popcorn, flowers and much more. The market is open throughout the year except for Tuesdays and Thursdays.
The address for the market is 1979 West 25th Street in Cleaveland.


14. Jungle Jim's International Market
Jungle Jim's International Market in Fairfield is a massive facility with over 150,000 items on sale. There are gift shops, restaurants, boutiques, food demonstrations and much more. You can also browse their extensive wine and beer selection as well as their thousands of food products from around the world. There are also family-friendly events including cooking classes, food tours and festivals that celebrate a wide variety of foods.
Jungle Jim's is at 5440 Dixie Highway in Fairfield.
15. The Center of Science and Industry
The Center of Science and Industry (COSI) in Columbus is one of the best Ohio attractions for families. It features attractions for guests of all ages, including a planetarium, a big screen TV, a mock space capsule, a working research laboratory, an ocean-themed exhibit and a place where visitors can learn about large machinery. The center allows several of its exhibits to be rented for special occasions like birthday parties or family gatherings. COSI runs several educational programs geared toward kids and adults. Tickets can be bought online, and the costs range from $15 to $20.
COSI is located at 333 West Broad Street in Columbus.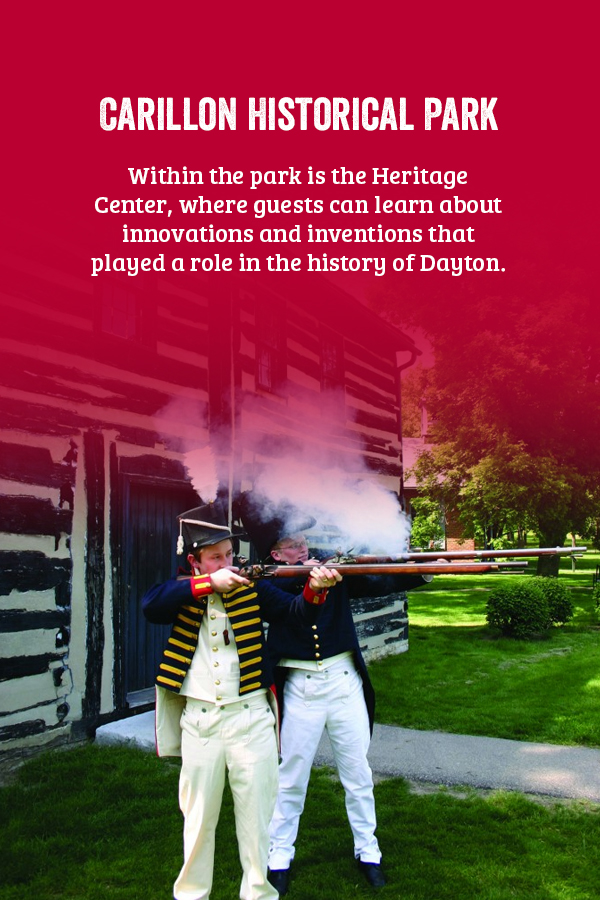 16. Carillon Historical Park
The Carillon Historical Park in Dayton is one of the best places to learn about how early Americans lived. Within the park is the Heritage Center, where guests can learn about innovations and inventions that played a role in the history of Dayton. The Early Settlement Area features a number of original businesses, homes and schools that guests can walk through on foot. There is also a Wright Brothers Aviation Center, which displays many objects belonging to the Wright family, including the 1905 Wright Flyer III. Carillon Historical Park also has one of the world's oldest trains, a fully operational printing press from the 1930s and an exhibition about the Great Flood of 1913.
The park is located at 1000 Carillon Boulevard in Dayton.
17. James A. Garfield National Historic Site
This important site is housed in the residence of James A. Garfield, which was visited by many of his supporters when he was running for president. The site features a vast array of mementos and artifacts from his presidency and childhood. You can take a guided tour through the house, where you can learn about how people lived in the 1800s. The house is open throughout the year.
The home's address is 8095 Mentor Avenue in the town of Mentor.
18. Loveland Castle
Loveland Castle was built to honor the courage and strength of knights during the Middle Ages, who played a major role in helping society become more moral. Inside you can view medieval weaponry on display, and outside you can explore the beautiful paths and gardens. You can also rent out the castle for special occasions and, as the castle is thought to haunted, arrange paranormal investigation trips.
Top off Your Ohio Adventure With a Visit to Giordano's
There's one final destination we wanted to recommend for your Ohio vacation — Giordano's Pizza. At Giordano's, we make handcrafted stuffed pizza with an irresistibly flaky crust. For over four decades, we've been making our artisanal deep dish pizza for residents in the Chicago area and have earned a reputation for being the best pizza in the city. Now we're expanding all over the country and have opened up two locations in Ohio. You can easily drop by our Columbus location while visiting the Columbus Zoo, The Center of Science and Industry or The Franklin Park Conservatory and Botanical Gardens, and our Beavercreek location is a short drive from the National Museum of the U.S. Air Force and Carilion Historical Park in Dayton.