Pizza parties are a classic way to celebrate any occasion — from kids' birthdays to high school graduations. You can host a pizza party to commemorate the end of a successful sports season or get the kids excited about heading back to school. Pizza parties have remained a staple in American culture because pizza is a crowd-pleasing meal that every party goer can enjoy — plus, it's affordable, easy to eat, fast to clean up and delicious!
If you're ready to get started on prepping for your next edible occasion, use this step-by-step guide for how to plan a perfect pizza party.
1. Pick a Cool Location
The first step of pizza party planning is picking the right location. Depending on the cause for celebration, the options for pizza party venues for kids are almost limitless. If you are throwing a birthday party, you'll want to choose a spot that offers other fun attractions or activities, like a bowling alley or arcade. When planning a party to watch the big game, having a large television and plenty of seating will be a priority. If you are celebrating the first day of summer or the Fourth of July, consider having your pizza party somewhere outdoors to enjoy the sunny weather.
Here are a few cool pizza party location ideas:
Bowling alley
Skating rink
Arcade
Escape room
Local park
Skate park
Playground
Swimming pool
Your backyard
Your living room
At the pizza shop!
If you choose to rent an event space at a local attraction, make sure the venue allows outside catering so you can still order from your favorite pizzeria. You can also save money by hosting a pizza party at your house instead.
When picking a venue for your pizza party, you will also want to plan for the clean-up. Pizza parties can get a little messy, especially if the party guests are young. If your living room has brand-new white carpet, consider laying down a tarp or having your party outside. Using a plastic disposable tablecloth can also help make clean-up a breeze.
2. Set the Date and Time
One of the many great things about pizza is that it can be enjoyed almost any time of day. Pizza can be a hearty meal for dinner or a fun and fast lunch for an afternoon party. If you're feeling wild, you can even order pizza for a brunch celebration.
When choosing the time for your pizza party, consider the age of the guests. While adults may enjoy chowing down on a late-night pie, younger children are likely to be hungry earlier in the day. If your pizza party is for a birthday or holiday, set a date that is on or close to the actual day. Weekends are a great time for a pizza party, but be sure to order the food in advance in case your favorite shop is busy that Friday or Saturday night.

3. Send the Pizza Party Invites
Once you have picked a venue and set the date, it's time to invite the guests. Your pizza party invitations can be as simple or as creative as you want. Making DIY invitations lets you add your own flair and personalize each invite. You can also design invitations online and print them out. If your pizza party has a theme, like a sports party or summer celebration, consider incorporating this theme in your invitation design. For a faster option, you can purchase generic invitations at a store or send electronic invitations via email or social media.
No matter how you choose to send your invitations, you'll want to include some essential information about your party. Here are a few details to include on your pizza party invites:
Location, date and time: Let your guests know where and when to show up!
Dress code, if applicable: If you are hosting a costume party or other themed pizza party, make sure your guests know what to wear.
Things to bring: For pool parties or other activities that require additional gear, remind your guests to bring everything they need to have fun.
RSVP information: Provide contact information so your guests can let you know they're coming. Ask guests to RSVP at least a week before the party to help you plan for how much food you need to order.
Allergies or food preferences: Ask guests to inform you of any allergies or food restrictions when they RSVP. This makes it easier to order pizzas and other food for everyone to enjoy.
Send your pizza party invitations a few weeks in advance so guests have time to RSVP and get excited to celebrate with you.
4. Order Enough Food
The classic dilemma of pizza party planning is deciding how many pizzas to order for your group. You want to order enough food that no one goes hungry, without having too many leftovers to take home. A simple formula for figuring out how many pizzas to order is planning on about three slices for each adult attending. If the party guests are primarily kids, you can plan for two slices each.
However, the right number of pizzas will also depend on the type and size of pizza you order. Guests are likely to eat more slices if you choose thin crust pizza, but fill up more quickly if you choose thick deep dish pizza. Pizzas covered in hearty toppings will also be more filling than plain cheese pizzas. When ordering large or extra large pies, you can often order less than small or medium pizzas.
In addition to pizzas, you may also want to offer other food options, like salads, sandwiches, pasta dishes and dessert. Ordering a few extra side dishes will ensure everyone can eat their fill of foods they love.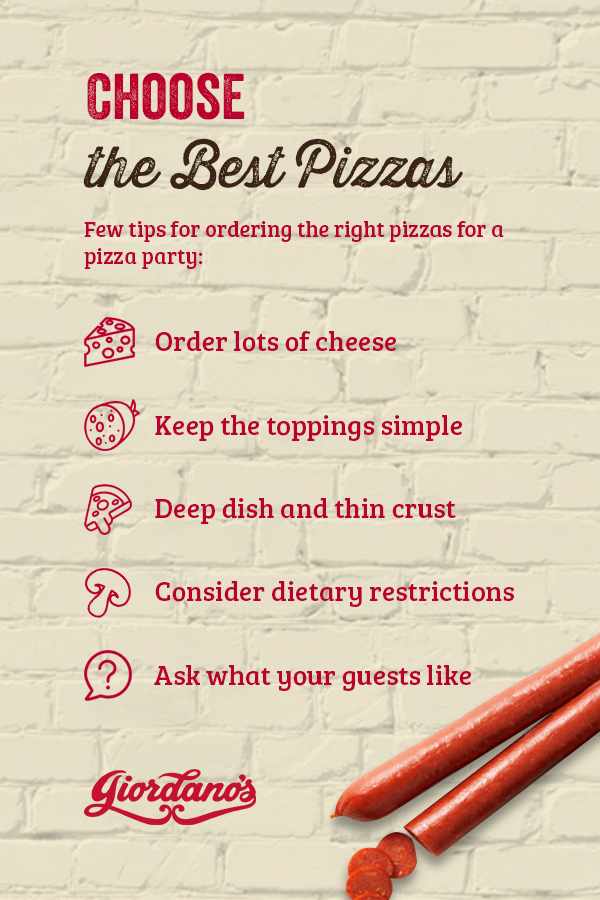 5. Choose the Best Pizzas
The centerpiece of a great pizza party is the pizza itself. After enjoying party games and activities, your guests will be thrilled to sit down for a warm and cheesy slice. However, every guest will have their own favorite toppings and pizza preferences, which can make it difficult to please everyone. Here are a few tips for ordering the right pizzas for a pizza party:
Order lots of cheese: Plain cheese pizzas are an easy crowd-pleaser. Order plenty of cheese pizzas for guests who may not like the more creative toppings you choose. You can also provide extra toppings, seasonings and sauces that guests can add to their slices themselves.
Keep the toppings simple: Don't assume that everyone at the party will be as excited about olives and anchovies as you are. Instead, choose simple and popular pizza toppings like pepperoni, sausage and mushrooms. A good rule of thumb is to stick to one topping per pizza. You can also opt for a familiar combination, like a vegetable pizza, meat lover's pizza or barbeque chicken pizza.
Deep dish and thin crust: Here in Chicago, we're a little biased towards deep dish stuffed pizzas bursting with flavor. However, we also respect pizza lovers of all kinds — and your pizza party should, too. To please every taste, order a variety of thin crust and deep dish pizzas.
Consider dietary restrictions: When choosing pizzas for your party, try to accommodate any guests who are vegetarian, vegan, gluten-free, lactose intolerant or who have other food restrictions. You can order pizzas without meat for vegetarians or pizzas with gluten-free crust for those with gluten allergies. Those with dietary restrictions may also be able to enjoy salads, sandwiches and other side dishes you provide.
Ask what your guests like: One of the easiest ways to make sure there will be a pizza everyone enjoys is to ask what kinds of pizzas your guests prefer! If you are ordering your pizzas the day of the party, you can simply poll your guests as they arrive or take a vote before you place the order. You can also ask your guests to RSVP with their favorite pizza topping and any other food preferences they have.
Another tip for choosing the best pizzas for a pizza party is to start with the best pizza shop. Look for a pizza parlor serving high-quality ingredients and fresh flavors — like your local Giordano's. A great pizzeria will also offer an extensive menu of classic favorites and new flavors to taste.
6. Other Food Items
Although a single slice of deep-dish pizza can be a filling meal, your party guests will appreciate having a variety of side dishes and other food items to choose from as well. Appetizers like garlic bread, hot wings and meatballs are a perfect pairing with pizzas, while sandwiches, salads and pasta dishes are great meal options for those who may not want to eat pizza as their main dish. Simple snacks like chips and pretzels are also a great choice.
Here are a few pizza party ideas for other food items to order:
Cheesy garlic bread
Italian meatballs
Chicken wings
Mozzarella sticks
Antipasti platter
Caprese salad or skewers
Classic house salad
Greek salad
Italian sub or sandwich
Turkey and cheese sandwich
Italian lasagna
Chicken alfredo
Chicken parmesan
Even after eating their fill of pizza, wings and more, your party guests will likely still have room for dessert. Cookies, cheesecake, brownies and tiramisu are all great options for a sweet finish to a pizza party. If ordering cookies, choose an assortment of flavors so your guests can pick their favorite.
7. Don't Forget the Drinks
In all the excitement of picking your pizza toppings and side dishes, it can be easy to overlook beverages. However, your guests will want something refreshing to keep them energized for all the party games and fun. Drinks like sodas, lemonade and punch pair well with saucy and cheesy pizzas. Make sure that water is also available for guests who may not enjoy sodas or juices.
You can purchase a few large containers of drinks or choose single serving cans or bottles so you do not have to buy cups. You can also ask guests to bring beverages to share. Your pizzeria may even offer sodas or other drinks you can order with your food, so you can get all the nourishment and refreshments you need from the same place.
8. When to Order the Food
Ordering your food and drinks at the right time is essential to make sure the food arrives on time. If you are planning a pizza party during a busy time of the week, like a Friday night or weeknight during dinnertime, it is often best to order your food in advance. Call the pizza shop a day or two early to place your party order. This ensures the pizzeria will not run out of your favorite pizza toppings and your guests will not be kept waiting. When you order in advance, you can set a delivery or pick-up time that fits your party schedule.
Ordering online is often the easiest method for a pizza party, especially if you have a very large order or a lot of specifications. When you order online, you can leave detailed notes about the food and delivery information — without anything getting lost in translation over the phone. Ordering online also makes it easy to double check that everything is correct before you submit your order. If you plan far in advance, you can also go into the pizzeria to place your order in person.
9. Utensils and Other Supplies
Once you have planned the perfect pizza party menu, make sure to bring all the right utensils and supplies to enjoy the meal. If you are serving Chicago-style stuffed pizza, your guests will need a fork and knife or you might end up with a big, saucy mess. You will also want to provide proper serving utensils, plates and cups. Napkins and wet wipes are also a great idea if you have young party guests or are serving messy foods like hot wings.
Here are a few party supplies you won't want to forget when planning a pizza party:
Forks and knives
Plates and cups
Napkins and wet wipes
Serving tongs for salads
Serving spoons for salad dressing
Serving spoons for pasta or lasagna
Purchase enough plates, cups and utensils for all your party guests, plus a little bit extra in case someone drops their fork or throws their cup away and needs a new one.
Because eating pizza can be messy business, it's also smart to purchase a plastic tablecloth and plan for seating. Make sure guests have somewhere they can sit down to eat to prevent kids from spilling pizza sauce all over the floor. If you are hosting a pizza party at your house and do not have enough seating, you can ask guests to bring their own fold-out chairs.
10. Pizza Party Decorating Ideas
The final step to planning an awesome pizza party is setting the mood with fun decorations. Pizza parties can have a variety of different themes depending on the occasion. For a child's birthday party, consider a theme based on their favorite animal, sport, TV show or movie. A summer celebration can have a nautical or tropical theme, while a winter pizza party may have a winter wonderland decorations. You can even plan an entirely pizza-themed pizza party complete with pizza balloons, pizza string lights and a pizza-shaped pinata.
Your pizza party decorations can be as simple or as intricate as you want. Banners, lights and balloons are easy ways to decorate the event room. A colored tablecloth and patterned plates and napkins add a pop to the table and make the meal more exciting. Your party games and activities can also be based on your party theme for a thrilling pizza party that is fun for guests of all ages.

Plan Your Next Pizza Party With Giordano's
Planning a great pizza party starts with choosing the best pizza. At Giordano's, we craft delicious deep dish pizzas using fluffy Wisconsin mozzarella and the ripest tomatoes. Our hearty stuffed pizzas are slow-baked to perfection with a flaky, pie-like crust. We also offer thin crust pizzas made with hand-stretched dough and the same fresh, high-quality ingredients. Whether you want to enjoy classic flavors or choose your own unique toppings, you can't go wrong with Giordano's famous Chicago-style pizzas for your next pizza party.
When you choose Giordano's to cater your pizza party, you can also enjoy our extensive menu of salads, sandwiches, pasta dishes, appetizers and more. With options ranging from traditional Italian-style chicken parmesan to classic hot wings to fresh Greek salad, you can create an array that will please any pizza party guests.
To make your pizza party planning even easier, Giordano's offers both pick-up and delivery for catering orders. While we recommend placing your order in advance, we can often accommodate same-day orders for last-minute party planners. If you are ready to start planning your next pizza party, locate a Giordano's near you to explore our menu and place your order for the best pizza in town.