The practice of gift-giving isn't only for seasonal holidays, birthdays or other milestone events. Gift-giving is a demonstration of care to those we love and cherish. And this can happen any day — it doesn't have to be a special occasion. But what is the best gift when it comes to gift-giving?
Traditional gifts like jewelry and clothing work well if your recipient isn't expecting anything unique. But in the modern era, where materialism thrives and simple efforts hardly ever get a cameo, the most memorable gifts come from the heart. If the recipient you have in mind is a pizza lover — like many people today are — you'll find the path to their heart goes through their stomach. You can do this by giving the gift of Giordano's pizza.

Why Give the Gift of Giordano's?
While it seems obvious why a pizza lover would appreciate a Giordano's pizza, some elements of gift-giving go beyond the mere offering of a cheesy, saucy meal. Psychologists study the subject of gift-giving carefully because it involves a diverse range of human traits — our perception of others, value assignments, decision-making skills and capacity for empathy.
As social creatures, humans give gifts to strengthen and build meaningful relationships. The process of choosing the proper gift demands high-level thinking. Therefore, there are a couple of particulars to consider in gifting a pizza.
The Gift of Experience
Shiny toys and new technology are well-received gifts when you first open them. But like any tangible item, these things are subject to wear and tear. Other times, they might quickly become obsolete and prone to taking up extra storage space. Memories, on the other hand, last forever, and storing them requires little effort. Our ability to collect memories is virtually infinite.
Many favor the gift of experience. The money we spend doing things results in enduring happiness, as opposed to how we feel when we spend money on having things. As tactile as a Giordano's pizza is, the feast that commences upon receiving it fits the category of an experience, not a material object. The pizza itself is time-sensitive. The memory of it is limitless.
Think Like the Receiver
It's surprising how many gift-givers give gifts with themselves in mind. People use presents for poorly carried-out practical jokes or to push an agenda toward the recipient. For example, there's an ongoing trope of children receiving bath soap or socks from grandparents. The utility of these gifts stands within reason. However, these are more like basic amenities for any person's livelihood than they are meaningful presents.
Instead, we should put ourselves in the shoes of others and think about what our recipient would be happy to receive. From the viewpoint of a pizza lover, the gift of a Giordano's pizza is ideal. The recipient will be able to appreciate the sensory experience of a delightful meal, as well as acknowledge the consideration that went into your gift-giving.
Try to Be Special
Striving for a unique gift is an understandable endeavor in a world of "here-today, gone-tomorrow" trends. Gifting someone with food is a way to stand out from the crowd. Chicago's iconic deep-dish pizza is something everyone should try at least once. For the ultimate in convenience, you can have a frozen pizza delivered directly to your recipient's doorstep. Or, because pizza toppings are such a personal decision, you can gift a Giordano's gift card to ensure your recipient gets the pizza of their dreams. Either way, you'll provide a filling, nourishing and unique gift they're sure to love.
Find Shared Interests
We are experts at finding perfect gifts for ourselves. But if we think only of ourselves, we might not find the ideal gift for our recipient. Using the shared interests we have with our gift receiver allows us to be pragmatic about the types of gifts we would enjoy. By association, our gift recipient will like it as well.
Your natural cravings for pizza will ensure your yearning for a Giordano's frozen pizza evolves into a dependable gift for your fellow pizza lover recipient. Give Giordano's pizza as a gift if you can hardly stay away from it yourself.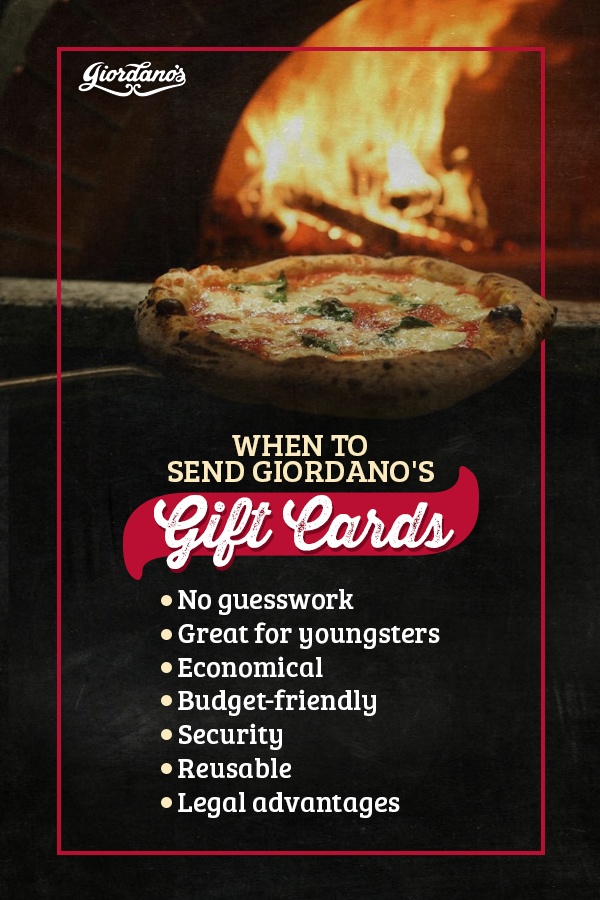 When to Send Giordano's Gift Cards
We know now that gift cards are a perfect gift idea for any occasion. A gift-giving frenzy won't overwhelm you. At the same time, you can be confident your recipient is getting the gift they want because they have a choice in the matter.
You can give a gift to a friend, co-worker or family member to commemorate a birthday or anniversary, as a way to say thanks for a favor they've done or as a pick-me-up for someone who's feeling a little bit down in the dumps. You don't even need a reason or special occasion to send a Giordano's gift card. If you know someone who recently relocated from the Windy City and is feeling homesick for the taste of genuine deep-dish pizza, they'll be sure to appreciate a thoughtful gift card. There are many reasons a gift card may be the perfect present for your recipient.
No guesswork: Getting a Giordano's gift card for somebody who you know loves pizza takes away the guesswork involved in getting another gift if you're not sure your recipient will be excited about it. A gift card gives your recipient both an excuse and the opportunity to spend money on something they love, but in the most independent way possible.
Great for youngsters: Gift cards are also great for young people. Putting cash directly in the hands of a younger gift recipient might not always lead to the best decision-making. But telling a young person that you don't trust them with your money comes off as cold and controlling. Gift-giving should be a positive occasion. With a gift card, your young loved one can practice financial responsibility without feeling confined to the will of an older relative.
Economical: For the economically savvy, gift cards can be exceptionally thrifty — in a good way. Assuming your gift recipient is big on saving, giving a gift card gives them the chance to wait patiently — or maybe not at all — for the next store sale. That way, the gift recipient can get what they want for less than either you or they originally imagined.
Budget-friendly: In the same vein, gift cards can be an excellent supplement to stretch your loved one's monthly budget. As the longevity of a gift card is one of its most appealing factors, your recipient will be glad to know they have a backup plan in case their funds run low. A college student or anyone else living frugally usually can't afford the luxury of takeout or delivery. Except with a gift card, you've already paid for their meal. Even better, pizza is a great treat to have in tough times. Your gift recipient will enjoy their meal and be in a better mood for the time being.
Security: Some gift cards are replaceable. Whereas lost cash is usually gone forever, gift cards sometimes come with an ID number. Jotting this down as well as having some proof of purchase could ensure you can get a replacement with whatever value remains on the card.
Reusable: Checking the balance on a gift card is a fairly easy task, too. Retailers want you to be happy, so you — or in this case, your gift recipient — will keep coming back for more. For this reason, they make balance-checking a hassle-free experience. Once your gift recipient has the right information about their gift card, they'll have no trouble using the card again and again if the need arises and the means are there.
Legal advantages: It's easy to bypass many select concerns people have about gift cards. For example, those who are worried about expiration dates should be aware that as of 2010, gift cards must have a life expectancy of at least five years. That's almost too much time to wait for a real pizza lover! The same set of laws banned any fees associated with gift cards for the first year after purchase.
The next step after deciding to buy a gift card is heading over to Giordano's website and sending it to your favorite pizza-loving recipient. You can choose $25, $50, $100 or provide a custom amount between $25 and $100 by selecting "Other."
Click "Browse Cards" if you want to personalize your gift for your recipient based on their stylistic preferences. There are currently four designs available. Standard shipping via USPS is free!

How to Ship Frozen Pizza
Imagine the excitement of your pizza-loving gift recipient finding a Giordano's pizza at their front door, and being able to promptly cook and indulge in their favorite meal. They'll be thrilled to digest the news — pun intended. A frozen pizza is about 10 inches and can serve two to three people. That's if your friend wants to share at all! Here's how to ship a Giordano's frozen pizza.
Navigate to the official Giordano's website and select between three options — a two-pizza pack, four-pizza pack or six-pizza pack. Then, select the main topping for each pizza. Giordano's offers cheese, pepperoni, spinach or sausage pizzas.
When you're ready to check out, you'll need to enter your recipient's address if it's different from yours. You can also provide the email address of your loved one, so their mouth can start watering in anticipation.
Standard shipping via FedEx Home Delivery is free, and will have your pizza in the right hands within the next week. You can also leave special instructions for delivery. Click "Continue" after selecting your delivery preference.
Now, you can enter your billing address and payment information. Click "Complete Order." Expect a confirmation email in your inbox.
Benefits of Shipping Frozen Pizza
The public opinion on the topic of frozen foods is both heated and divisive. Many people tend to imagine TV dinners and loud families when the concept pops up. As critical, hardworking gift-givers, let's not get discouraged by unwarranted presumptions. On the contrary, frozen foods have a lot of advantages and can be exceptionally nourishing. There are several reasons frozen pizza might even be the best option.
Freshness: Despite what misconceptions you might have heard, frozen food is not necessarily less fresh. By freezing food, you can prevent any spoilage that might ruin a perfectly good pizza. Freezing technology is so advanced, it might as well be science fiction. The state of a great pizza will remain that way until your gift recipient has properly thawed it. Then, they can stuff it in the oven and get to eating!
Nutrition: Similarly, any nutrient quality will remain consistent over time. Especially concerning vegetables, nutrients are most potent the closer they are to ripeness. That means if you freeze a freshly made pizza after it's had time to cool, there will be no loss of nutritional value. Giordano's will make sure to do this part for you before we ship the meal to your special someone.
Flexibility: Knowing you have a delicious pizza in the freezer that's fresh and still as nutritious as it was when it came out of our oven gives you flexibility in your meal planning. Rather than going out to yet another dinner with friends that's a little too late for your gift recipient's homebody disposition, they can skip out and enjoy a Giordano's pizza at home. Your gift recipient also won't have to worry about buying groceries and cooking a meal from scratch.
Longevity: The shelf life of any frozen food is incredibly long, which is another modern convenience of frozen pizza. No matter when you decide to gift a Giordano's frozen pizza, your gift recipient won't need to indulge immediately — though they'll probably want to. But if things do happen to get busy on their side, they can avoid frantic internet searches about the expiration date of a Giordano's pizza.

Ship a Giordano's Pizza
You heard it here first — Giordano's gifts are perfect for anyone on your list. Whether you choose to send Giordano's frozen pizza or opt for a gift card, we're confident your cherished pizza lover will be delighted. We know pizza holds a special place in many people's hearts, and the gift of a Giordano's pizza is one in a million. In the gift-giving process, your gift recipient wants to know you're thinking about them, as well as the things they like. Shipping a Giordano's frozen pizza gift — or sending a gift card — shows your pizza-loving loved one you've been paying attention to their interests. What's more, you'll be giving them a gift of experience. Even after they've cleaned their plate of every last crumb, it's unlikely your gift recipient will ever forget the consumption of a deep-dish Chicago delicacy from Giordano's.
Giordano's is a living legend. Two hundred years ago, Mama Giordano earned fame for her "Italian Easter Pie." This masterpiece, double-crusted and stuffed with cheese, hails from a small town near Torino, Italy. Two pie connoisseurs named Efren and Joseph Boglio moved from Italy to Chicago, deciding to share Mama's recipe with a treasured American city. They've been doing just that for almost 50 years. Now, with the boon of globalization and the internet at its helm, these brothers can share their gift across state lines. A taste of Giordano's pizza is no further than your browser's address bar. Visit Giordano's and get to shipping.