Are you ready for a few days of rest and relaxation? Planning a trip to an Illinois state park is a perfect way to get away from the hustle and bustle of life for quality time with friends and family. Illinois is an ideal destination for outdoor fun. With more than 70 state parks and seven forests, there are miles of green spaces worth exploring. If you've got an appetite for fresh air and gorgeous views, let us help you plan a trip to an Illinois state park.
Illinois Vacation Ideas
Whether you're a local or a visitor, the Prairie State has plenty of fantastic places to spend your vacation. Chicago alone has a massive amount of amusement for foodies, art lovers, sports fans and more. Springfield proudly embraces the life and history of Abraham Lincoln, while Galena's charm has earned it the nickname "The City That Time Forgot." With exciting cities and towns located close to sprawling parks and forests, Illinois offers vacation options with a perfect balance of natural beauty and national history.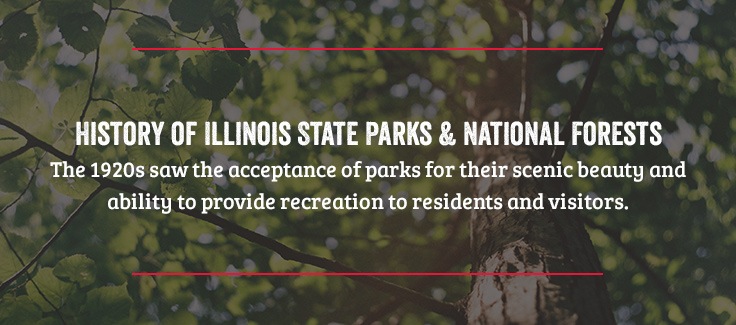 Brief History of Illinois State Parks and National Forests
It wasn't until the late 1800s that the concept of federally protected areas blossomed into officially dedicated parklands. Landscape architects Jens Jensen and Dwight Perkins embraced this concept as well and set about developing the initial plans to create the first nature preserves in Illinois. The growing interest in exploring these spaces birthed the formation of the Prairie Club, which facilitated and managed group walking trips through these areas. The Prairie Club was successful in supporting legislation to protect areas around the state, including Starved Rock State Park.
Though the original intent of creating parks was to protect areas of historical and cultural significance, the 1920s saw the acceptance of these parks for their scenic beauty and ability to provide recreation to residents and visitors. Soon after, parks like Giant City, Cave-in-Rock and Mississippi Palisades earned status as Illinois state parks. Conservation and preservation efforts continued into the '30s and '40s, as Illinois designated more spaces as state parks for their historical, scenic or recreational features. Over a century later, thousands of people continue to visit Illinois state parks each year.
How to Prepare for a Trip to Illinois State Parks
Before you search for the Illinois state park that features the amenities, access and adventure you desire, there are a few pieces of advice you should consider. Researching your destination is a wise practice for any trip, especially if you plan on enjoying the great outdoors. Take it from us — a few days outdoors in the Prairie State can be an unforgettable experience if you stay informed of park closings, keep an eye on the weather and pack the items needed to have a safe trip.
Illinois Seasonal Weather
As one of the northern states of the Midwest, Illinois has a temperate climate that experiences all four seasons throughout the year. You may be surprised at just how drastically different our summers and winters are. The northern part of the state may see as much as 37 inches of snow, while the southern end sees nearly a foot less. Average temperatures in the summer hover in the 70s, with rain frequent from spring through fall.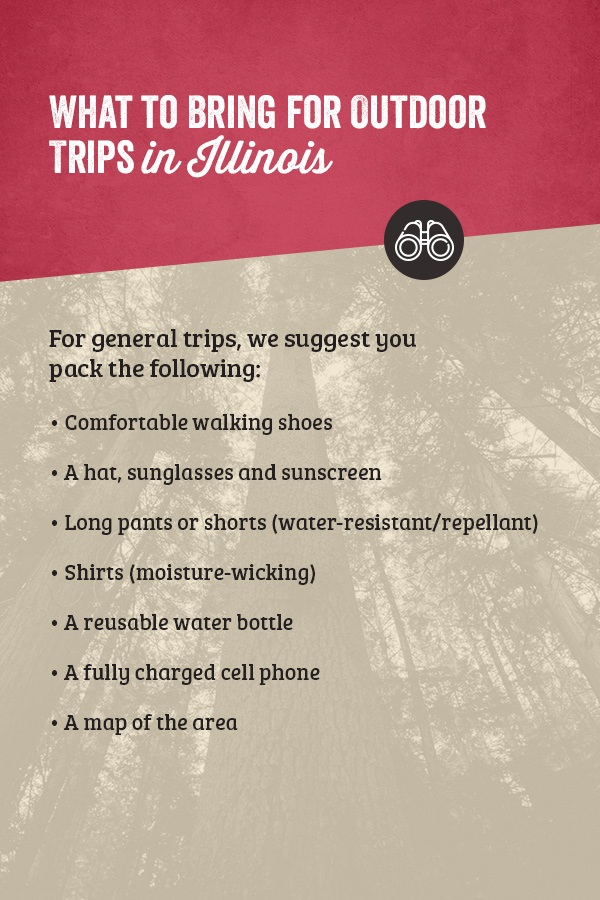 What to Bring for Outdoor Trips in Illinois
Packing for an outdoor trip in Illinois state parks is not much different than packing for a trip to a protected area on this side of the country. While the Grand Canyon's arid desert or Yosemite's snowy peaks may require special gear, you won't need extensive equipment when traveling through our state parks and national forests. Most of your standard supplies should suffice if you plan on hiking, camping, fishing or engaging in another outdoor activity. For general trips, we suggest you pack the following:
Comfortable walking shoes that grip the ground
A hat, sunglasses and sunscreen for UV protection
Long pants or shorts that have water-resistant or repellant properties
Shirts made from moisture-wicking fabrics
A reusable water bottle
A fully charged cell phone to take photos and in cases of emergency
A map of the area, typically available at the park's visitor center
Of course, the current climate during your trip will encourage you to pack a few items specifically for the weather. If there's a chance of rain, bring an umbrella or rain jacket along with you. During the winter, be sure to wear layers to keep you warm. Snow boots, hats, gloves and scarves are ideal for snowy weather.
Do Illinois State Parks Ever Close?
Yes. According to the Illinois Department of Natural Resources, many sites they manage may close throughout the year. For example, some of these areas may be off-limits to public access during hunting season. They could also fully or partially close due to weather, facilities management, improvements or as the Illinois DNR deems necessary. Thankfully, the DNR website provides updates in full detail.
Best Illinois State Parks
There are so many amazing state parks throughout Illinois that you honestly can't go wrong with a visit to any of them. If you have a specific activity in mind, such as fishing, camping or hiking, check the Illinois Department of Natural Resources website or each state park website to learn more about restrictions and permits. We've put together a list of some of the most popular, beautiful and exciting state parks that are perfect for your list of Illinois vacation ideas.
Starved Rock State Park
Location: Close to the intersection of Interstate 39 and Interstate 80, on the Illinois River across from North Utica
If you can only visit a single state park during your vacation, make sure it's Starved Rock State Park. Rated the No. 1 attraction in Illinois, this renowned park offers incredible views of nature and wildlife all year long. Dramatic canyons and stunning waterfalls characterize the area where bald eagles, whitetail fawn, otters and wild turkeys play. Kids' activities, sports, historical and cultural activities are ready to fill your trip with excitement. After exploring their 13 miles of trail, enjoy delicious dining at one of their four eateries.
Deep-Dish Tip: Visit in the winter months to watch families of bald eagles return home to the park.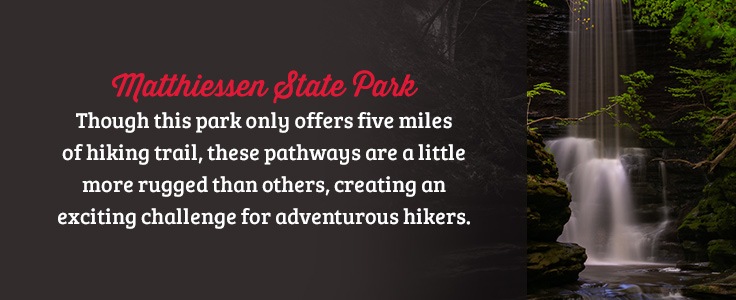 Matthiessen State Park
Location: Along the east side of the Vermillion River, a few miles east of Interstate 39 south of Starved Rock State Park
Right next door to Starved Rock State Park is Matthiessen State Park. Another favorite of locals and visitors alike, Matthiessen is somewhat of a hidden gem. Though this park only offers five miles of hiking trail, these pathways are a little more rugged than others, creating an exciting challenge for adventurous hikers. However, there are additional trail spaces for mountain biking and horseback riding if you're interested in seeing more of this beautiful area from a different view.
Deep-Dish Tip: Head to the Dells area, where you'll find a playground, restrooms and tables for a relaxing picnic along the river bluffs.
Kankakee River State Park
Location: West of Kankakee and Interstate 57, just over an hour's drive from Chicago
An unspoiled land that's been a treasure for centuries, Kankakee River State Park is perfect for outdoor enthusiasts of all ages. The park rests on both sides of the Kankakee River and provides plenty of room for camping, fishing, bike riding and hiking. Most of the bike trail is paved, providing a smoother ride for families. There are also a few equestrian trails with horse rentals available close to the park.
Deep-Dish Tip: Stop by during winter for cross-country skiing and snowmobiling.
Castle Rock State Park
Location: A few miles south of the town of Oregon, on the northern side of Rock River across from Lowden-Miller Forest
Castle Rock State Park spans roughly 2,000 acres of land, with nearly half of it belonging to the Illinois Nature Preserve. The geography of the area includes ravines, rock formations and rocky waters which lend the park its name. Plant lovers will enjoy the diverse greenery throughout the park, including nearly 30 different types of fern species.
Deep-Dish Tip: Castle Rock has a small primitive campground that is only accessible via boat, kayak or canoe for those hoping to truly get away from it all.
Giant City State Park
Location: Within the Shawnee National Forest, south of Carbondale
If you like the rocky surroundings of Castle Rock State Park, you're going to love Giant City State Park. Enormous sandstone bluffs that formed over 12,000 years ago dominate this park within the Shawnee National Forest. Climb up to the lookout tower for spectacular views of the woodlands or spend the weekend in a cabin at the Giant City Lodge that features a swimming pool, gift shop and dining area. Be sure to check out the visitor center to learn more about the geology of the park.
Deep-Dish Tip: Rock climbing and rappelling the massive sandstone walls in the park is possible. However, you'll have to bring all your equipment from home.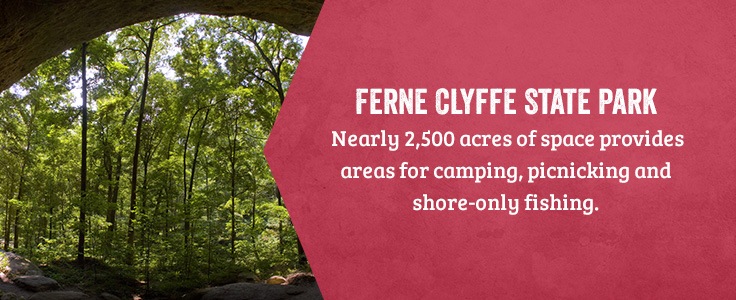 Ferne Clyffe State Park
Location: One mile south of Goreville
Another great place to climb, Ferne Clyffe State Park has plenty of rock formations you can scale. Hikers will enjoy 18 different trails that are free of bicycles and motor vehicles. Nearly 2,500 acres of space also provides areas for camping, picnicking and shore-only fishing. With no boating or swimming allowed, this park is ideal for those who want to spend a relaxing day at a leisurely pace.
Deep-Dish Tip: Go farther into this serene sanctuary by following the entrance road for Ferne Clyffe State Park south to Round Bluff. This isolated area features songbirds and plants you won't find anywhere else in the region.
Apple River Canyon State Park
Location: Nestled just below the Wisconsin state line, about an hour west of Rockford
The stunning depth of beauty in Apple River Canyon State Park will surprise even residents of Illinois. This hilly park features deep ravines, streams and springs, limestone bluffs and miles of quiet hiking trails that will make you forget you're in the typically flat terrain of the Midwest.
Deep-Dish Tip: Hike your way through the park to find the plaque commemorating the town of Millville, which got washed away by a flood only 60 years after its founding.
Garden of the Gods
Location: Within the Shawnee National Forest, southwest of Evansville
With a name like Garden of the Gods, you know it needs to be at the top of your list for outdoor trips in Illinois. The crown jewel of the Shawnee National Forest, Garden of the Gods presents you with awe-inspiring views unlike anything you'll see in the Midwest. Though the observation trail is only one-quarter of a mile long, the dramatic viewings of rock formations earn its place as the most visited site in the entire Shawnee National Forest.
Deep-Dish Tip: Just a few minutes south along the Kentucky border is Cave-in-Rock State Park, another cherished area with amazing views of the Ohio River.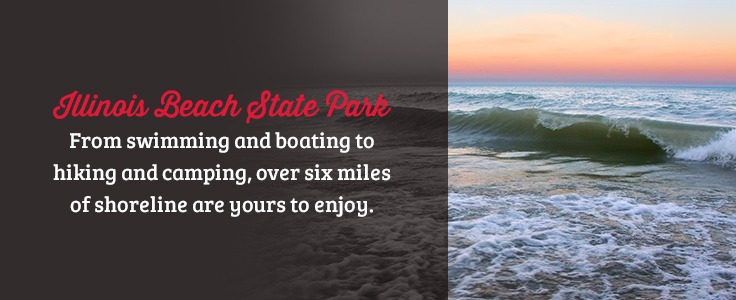 Illinois Beach State Park
Location: Just below the Wisconsin state line on the shores of Lake Michigan, less than 60 miles from downtown Chicago
Lake Michigan is a top destination in our region, and the more than 4,000 acres of Illinois Beach State Park provide you with everything you need to make a weekend at the lake something special. From swimming and boating to hiking and camping, over six miles of shoreline are yours to enjoy.
Deep-Dish Tip: This park provides the state's only remaining beach ridge shoreline, so be sure to pack your swimsuit, fuel up the boat and spend some time in the water.
Kickapoo State Park
Location: Off Interstate 74, east of Champaign
Kickapoo State Park is a water lover's paradise. With access to a river and nearly two dozen different lakes, you can spend days canoeing, tubing and fishing. Those who enjoy dry land can camp, hike, run or even mountain bike. During the winter, ice skating and ice fishing are among the most popular activities at the park.
Deep-Dish Tip: Kickapoo State Park is one of the only parks in the state that allows you to scuba dive, so don't forget to bring your certification!
Visit Illinois State Parks
Illinois is a delightful vacation destination, and with thousands of acres of gorgeous state parks, you can spend hours exploring the outdoors. Whether you're a local taking a trip across state or a visitor heading to the Prairie State from across the country, no trip through Illinois would be complete without a delicious deep-dish pizza. If you want the best stuffed pizza in the Midwest, we invite you to bring your family and friends to one of Giordano's 51 locations in Illinois.
Since 1974, we've proudly brought our 200-year-old Italian Easter Pie to the plates of pizza lovers across the country. Our world-famous pizza continues to make headlines as one of the best pizzas in a multitude of dining guides and traveler lists. Don't take our word for it — stop by Giordano's and try a pie! We're positive it'll be the best stuffed pizza you've ever had.