Michigan offers something for practically every traveler, including excellent food, exciting outdoor activities, unique cultural attractions and — considering the four Great Lakes that surround the state — beautiful natural scenery. The Great Lake State boasts so many attractive spots that we've created a list of the 10 most beautiful places in the Great Lakes State.
1. Mackinac Island
Mackinac Island is a picturesque island destination that prohibits the use of motor vehicles, providing visitors with a refreshing escape from the modern world. Located on Lake Huron in between the Lower and Upper Peninsulas, this island is a National Historic Landmark and features attractive beaches and charming hotels, shops and restaurants. The island also offers over 70 miles of trails to walk, hike or bike as well as beaches to enjoy various water sports. Beloved attractions include a kayaking tour along the gorgeous coastline and a carriage tour that showcases the highlights of the island, including a number of historic sites.
Here are some locations we suggest for your visit to the island:
Arch Rock: Located on the island's eastern side not far from the coast, Arch Rock is a rock formation spanning 50 feet at its widest point. For millennia, wind and water have been eating away at this limestone rock, exposing the arch-shaped breccia underneath. The peak of the arch is 146 feet above the lake level, and you can reach it via Lake Shore Road, Arch Rock Road or Arch Rock Bicycle Trail.
Mackinac Island State Park: Comprising 80 percent of the island's land area, this state park is one of the island's main attractions. The park has been untouched since its establishment in 1895, and visitors can admire its mixed hardwood and coniferous forests, which are home to fragrant spruce, paper birch, balsam fir, cedar, hemlock, red oak, white pine and sugar maple. Although large animals do not live on the island, there are a number of bird species including gulls, warblers, ducks, sparrows and finches. Visitors often spot squirrels, hares, chipmunks and bats as well as the occasional red foxes, raccoons and muskrats.
Fort Mackinac: Built in 1780 to protect the island from intruders, this site is now one of the island's major attractions and features fascinating exhibits and unusual weapons. The fort consists of 14 historical structures, and one of them is actually Michigan's oldest building. Visitors to the fort can enjoy stories describing the fort's history in vivid detail. There is also a section of the museum dedicated to hands-on exhibits for kids. You can visit Fort Mackinac any day of the week from May until October.
Historic Downtown: Downtown Mackinac boasts a wide variety of historic sites, including the McGulpin House, where guests can learn about island resident William McGlupin, an American Fur Company employee. Tourists can also visit the store at the American Fur Company and Dr. Beaumont Museum, where they can learn about the Canadian explorer Alexis St. Martin, who suffered a gunshot wound to the stomach on this site and whose stomach was then famously studied. The Biddle House is another great place to learn more about the town's history, and the nearby Benjamin Blacksmith Shop introduces guests to blacksmithing techniques.
Fort Holmes: Originally called Fort George after Britain's King George III, Fort Holmes is a smaller fort made of wood and earth that sits on top the island's tallest hill. The fort you see today is actually a replica of the original, which the British built during the War of 1812 to defend Fort Mackinac in the event of an attack by the U.S. Army. After the war was over, the fort was renamed Fort Holmes by the Americans to honor Andrew Hunter Holmes, a major who died in battle. The fort has been rebuilt twice since then, most recently in 2015. Visitors can book this site for private events.
2. Holland
As the name suggests, the city of Holland, Mich., offers a distinctly Dutch atmosphere and allows visitors to experience the Netherlands through a variety of sights and activities, including tours of tulip fields and Dutch windmills. It also offers a variety of fun outdoor activities, such as sailing, paddle boating and kayaking. Holland is considered one of Michigan's top romantic destinations and one of America's prettiest towns.
If you're a history or art buff, you may want to check out the Kruizenga Art Museum or the Holland Museum, and music aficionados can visit the city's symphony orchestra. Kids may be interested in visiting the town's petting zoo or picking blueberries.
While in Holland, make sure not to miss the following attractions:
Holland State Park Beach: This park is famous for its expansive sandy beach located on both Lake Macatawa and Lake Michigan. Enjoyed by tourists and locals alike, this sandy shore is ideal for any beach-related activity including sunbathing, sandcastle building, volleyball, surfing or just kicking back and relaxing. The park has two big campgrounds with picnic tables, fire pits and grills. The pier and walkway by the harbor channel are great spots for fishing enthusiasts as well as those who just want to enjoy a stunning sunset or photograph the beautiful lighthouse.
Mount Pisgah Dune Boardwalk: This mountain is actually a 157-foot high dune located in Holland State Park that offers stunning views of Lake Michigan, Lake Macatawa and the famous nearby lighthouse. Visitors can access the dune by taking the stairs or boardwalk and are often seen climbing or rolling on the dune's sandy surface. Amenities include volleyball courts, bathrooms and picnic shelters.
Windmill Island Gardens: These gardens are home to De Zwaan Windmill, the United States' only authentic, functioning Dutch windmill. This marvel is over 250 years old and was moved from the Netherlands in 1964. Today, it serves as the centerpiece of the magnificent Windmill Island Gardens. If you can, visit in May, when over 100,000 tulips come into full bloom in every color of the rainbow. In addition to the windmill, the gardens also contain a beautiful carousel popular with children. If you come in the summertime, you can enjoy watching children perform Dutch dances in traditional wooden clogs.
Nelis' Dutch Village: The historic 10-acre Nelis' Dutch Village offers a wealth of fun activities for you and your family. Its attractions include picturesque architecture, guides in vibrant Dutch costumes, street organ performances, a wooden shoe factory and a petting zoo.
Tunnel Park: Tunnel Park is home to a unique tunnel that passes through a sand dune and is a popular location for both adults and children. The park contains beach volleyball courts, a playground, picnic areas and a stairway that goes to the highest point of the dune providing visitors with breathtaking views. Tunnel Park is an excellent place for swimming, sunbathing or just relaxing on the beach.
3. Ann Arbor
Ann Arbor, also known as Tree Town, is a charming university town known for its parks, thick forests and inviting scenery. Several of the city's parks are located along the beautiful Huron River, where guests can have a picnic, walk nature trails or go canoeing. The city's Main Street also attracts a large number of tourists year round.
A trip to Ann Arbor would be incomplete without a visit to the following:
Matthaei Botanical Gardens & Nichols Arboretum: Run by the University of Michigan, these two attractions feature a wide variety of display and botanical gardens, walking and hiking trails and a conservatory. The botanical gardens offer bonsai gardens, a children's garden and opportunities for bird and wildlife watching. At the arboretum, you can view a collection of historic and native plants. You can visit both gardens every day of the week. They open at sunrise and close at sunset.
Kerrytown: This historic district of Ann Arbor is beloved for its charming brick streets, wide variety of shops and lively atmosphere. While here you can experience exquisite food, energetic markets and shops that sell fashionable jewelry, vintage treasures, toys, handmade art and a vast array of other products.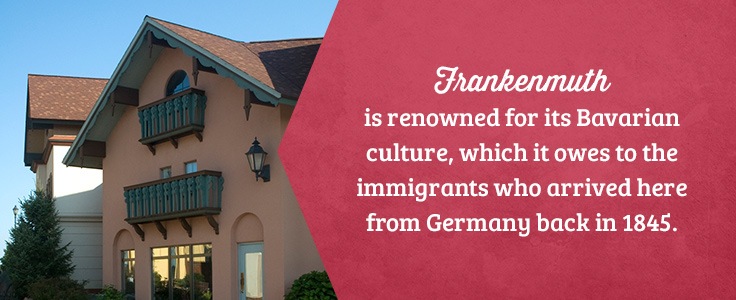 4. Frankenmuth
Frankenmuth is renowned for its Bavarian culture, which it owes to the immigrants who arrived here from Germany back in 1845. Among the legacies that they left is Bronner's CHRISTmas Wonderland, which sells everything needed to celebrate the holiday season. Tourists can also familiarize themselves with the history of the town at its historical museum and brewery museum. Outdoor activities are also available, including paddle boarding, riverboat rides, kayaking, zip-lining and carriage rides. If you're traveling to Frankenmuth in the fall, you can take your kids to its corn maze.
Here are a few attractions you may enjoy while visiting this quaint Bavarian town:
Frankenmuth River Place Shops: Frankenmuth River Place Shops features a vast assortment of specialty stores and activities that the entire family can enjoy. Located on the Cass River, this village charms visitors with its Bavarian architecture, waterfalls, streams, cafes and restaurants. Events held throughout the year include Revolutionary War reenactments and the Dog Bowl competition.
Bavarian Belle Riverboat: This family-operated riverboat travels along the Cass River and introduces tourists to the beautiful sites of Frankenmuth. This 150-passenger boat leaves from the River Place Shopping Village and features modern restrooms and a snack bar. Tours last one hour and are offered seven days a week from 11 a.m. to sunset. You can also rent out the boat for special occasions including weddings and birthday parties.
Castle Shops: Visitors who go to the Castle Shops at the Bavarian Inn Restaurant can purchase a variety of unique products in a dazzling fairytale-like setting. The shops sell German items like nutcrackers, steins, lederhosen, fudge, apples and chocolates.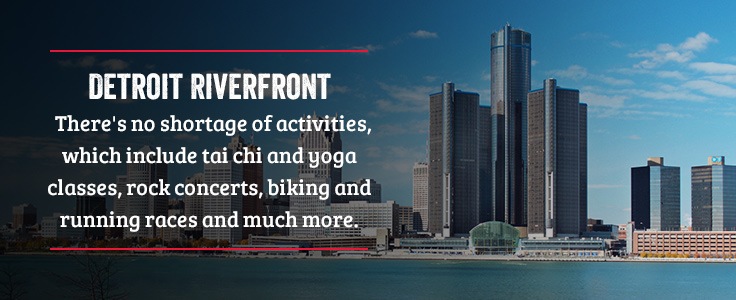 5. Detroit
A trip to Michigan would not be complete without a visit to its largest and most famous city, Detroit. Motor City boasts a wide array of attractions that will entertain tourists both old and young. Hop on the People Mover to get a great overview of the downtown area and take in some of the town's history at the Henry Ford Museum and the Automotive Hall of Fame. Great family activities include the city's fantastic zoo and a riverboat cruise.
Make sure to check out the following activities when visiting the Detroit area:
Detroit Riverfront: Thanks to the Detroit Riverfront Conservancy, this area has undergone extensive renovations and is a bustling hub of activities during the warmer months of the year. There's no shortage of activities, which include tai chi and yoga classes, rock concerts, biking and running races and much more.
Detroit Princess Riverboat: This cruise ship offers various river tours throughout the day including lunch, afternoon, dinner and evening cruises. You can also book the ship for private occasions such as family reunions, weddings and birthday parties. This 2,000-passenger ship has four decks and provides guests with meals and has several bars that serve cocktails, champagne, beer, wine and spirits. This river cruise is ideal for a date night.
6. Mackinac Bridge
The Mackinac Bridge connects Michigan's lower and upper peninsulas and has the distinction of being America's longest suspension bridge. A famous feat of engineering, this structure rises 200 feet over the water and carries a total of four lanes of traffic nearly five miles. You can drive over this bridge by taking Interstate 75 south from St. Ignace or north from Mackinaw City. You can also walk over this marvelous structure if you come during the yearly Mackinac Bridge Walk, which takes place in September and is attended by several hundred walking enthusiasts.
7. Pictured Rocks National Lakeshore
This 40-mile shore offers views of diverse landscapes including waterfalls, dunes, sandstone cliffs and gorgeous forests and lakes. If visiting in the summertime, you can hike, bike, swim, picnic, dive, boat and camp. In the winter, you can enjoy snowmobiling, snowshoeing, cross-country skiing and fishing. The park offers several ranger-led tours.
8. Pierce Stocking Scenic Drive
This beautiful seven-mile stretch of road is located within Sleeping Bear Dunes National Lakeshore and is one of the park's greatest attractions. It winds through forests and dunes, offering stunning views of Lake Michigan. Vista points along the drive include the Lake Michigan Overlook, which is 450 feet over the lake and is renowned for its stunning sunset views.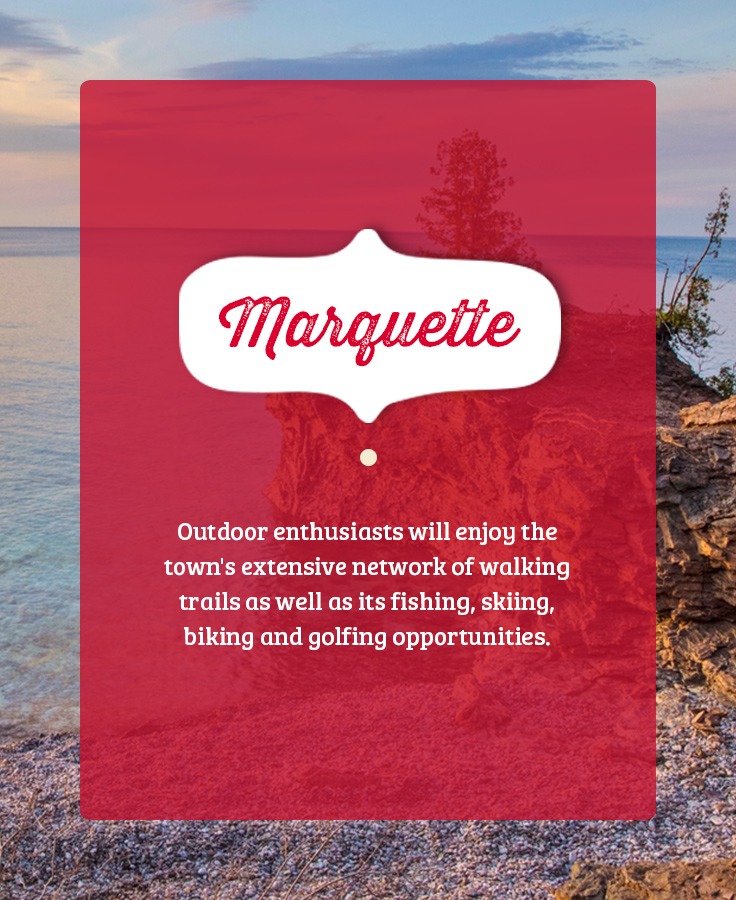 9. Marquette
Located on the shores of Lake Superior on the Upper Peninsula, Marquette offers beautiful scenery throughout the year. The city boasts several parks and beaches, including the popular South Beach Park and McCarty's Cove. Outdoor enthusiasts will enjoy the town's extensive network of walking trails as well as its fishing, skiing, biking and golfing opportunities. In fact, Marquette is considered one of the U.S.'s top destinations for biking. The town also stands out for its many festivals, which include events celebrating blueberries, beer and old cars.
10. Giordano's
Our final recommended location is a relatively new attraction: Giordano's World-Famous Deep Dish Pizza. That's right — Chicago's best stuffed pizza has moved to the Mitten!
So far we've opened two locations in the state. One is in Holland and is a great place to stop in for a meal after a day of viewing tulips, climbing sand dunes or whatever fun you decide to have in this Dutch-inspired city. Our other restaurant is located in the heart of Detroit, not far from the Detroit Opera House and Saint Andrews Hall. Stop by before going to a Lions game or have your order delivered right to your hotel room.
Our deep dish pizza is made by hand using the highest-quality ingredients, which include our special mozzarella from Wisconsin and slow-baked double crust. Although pizza is our specialty and part of our heritage, we also offer a number of other mouthwatering items including delicious appetizers, scrumptious pastas and hearty Italian sandwiches.
When you check out the most beautiful places in Michigan, add Giordano's to your list. We'll keep you fed and fully energized for your next adventure.