If you study the history of pizza, you'll see it started in Naples as an every man's (and woman's) food consumed mostly by hardworking, poor people who needed a quick meal so they could resume working as quickly as possible. Those early pizzas were covered with some of the toppings we still love today, such as cheese, garlic and basil.
While pizzas were readily consumed by the working class in and around Naples back in the 1700s and early 1800s, they didn't catch on with the upper echelons of society who unduly judged the people who ate them for their station in life until much later. Then, in 1889, Italy's King Umberto I and Queen Margherita took a trip to Naples. Having become bored with their usual fair, the royal couple ordered some pizzas from a local pizzeria. After the queen fell in love with a pizza topped with white cheese, tomatoes and basil, the Margherita pizza was born.
As more and more immigrants from the Naples region made their way to the United States in search of work, recreations of the Margherita pizza and others became more common in cities like Chicago, Boston and New York in the late 1800s and early 1900s. In 1905, Gennaro Lombardi capitalized on the increasing popularity of pizza by converting his New York City grocery store into the nation's very first pizzeria. Still in business today, Lombardi's uses the same kind of coal-burning oven used at the time the eatery first opened its doors.
The Enduring Popularity of Pizza
Thanks to Gennaro Lombardi's example, pizza has become a mainstay of the American diet, with approximately 70,000 pizzerias located throughout the United States. If you question how popular pizza has become across cultures in the United States since Lombardi's opened its doors more than a century ago, consider the following statistics:
About three billion pizzas are sold in the United States annually
Around 350 individual pizza slices are sold every second in America
A typical person in the U.S. will consume 46 slices of pizza every year
More than 90 percent of people in the United States will each eat pizza a minimum of one time over the course of the next 30 days
About 12.5 percent of the American population will eat pizza every day
With pizza being in such high demand in the United States, it was just a matter of time before a museum sprung up in honor of the perennially popular dish. While the existence of a pizza museum in America may not surprise you, the fact that there are actually several of them might.
What Is a Pizza Museum?
A pizza museum is a place where you can learn all about — you guessed it — pizza. While every pizza museum wants you to learn about 'zas, they're not all the same. As you'd expect in a country as thankfully diverse as the United States, the country's various pizza museums take different forms, and they celebrate different aspects of the universally loved foodstuff.
One pizza museum may have a permanent home, while another may travel to different parts of the country. A given museum might celebrate pizza as an expression of art, while a second may be more about how the food has been marketed over the years. Although pizza museums may differ from one to another, they share a common goal — and that's to educate you and help you fall even deeper in love with the food they celebrate.
Here are four of the most popular pizza museums in the country.
1. Pizza Hut Museum
Located on the campus of Wichita State University, the Pizza Hut Museum occupies what was once the site of the original Pizza Hut restaurant, which opened in 1958. The location of this museum is more than appropriate because the now-global restaurant chain was founded by two brothers who were students at Wichita State when they founded what would become the Pizza Hut brand.
The Pizza Hut Museum features rotating displays of memorabilia collected over the course of Pizza Hut's storied history. One of the more interesting exhibits at this must-visit museum revolves around a napkin — if you can believe it. Of course, the napkin isn't just any garden variety table linen. Instead, it's the napkin on which one of the Carney brothers wrote the original recipe for the sauce used to make the first Pizza Hut pizzas.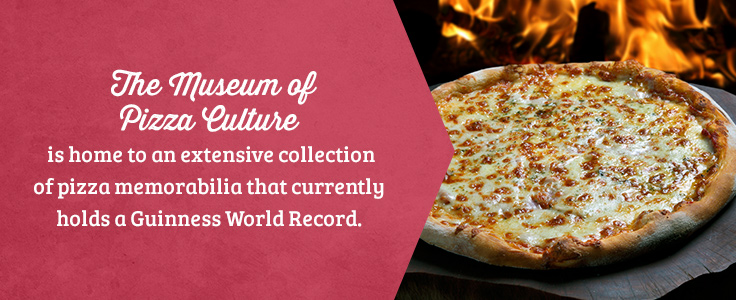 2. Pizza Brain's Museum of Pizza Culture
Founded in 2012, Pizza Brain's Museum of Pizza Culture isn't just America's first pizza museum. It's also widely recognized as the first museum of its kind in the entire world. Located at 2313 Frankford Avenue in the City of Brotherly Love, the Museum of Pizza Culture is home to an extensive collection of pizza memorabilia that currently holds a Guinness World Record.
The Museum of Pizza Culture is currently trying to make its extensive collection of display items accessible to an even broader audience of pizza enthusiasts by putting the collection online. Pizza Brain offers more than "just" a pizza museum at its location in Philadelphia. It's also an active pizza shop where you can enjoy tasty red, white, veggie and specialty pizzas and buy toys and books centered around pizza.
3. The Museum of Pizza
The Museum of Pizza made its debut in New York City on October 13, 2018. Rather than occupy a space on a permanent basis, the museum was only open for 15 days. Kareem Rahma is the brainchild behind The Museum of Pizza. Tickets to this museum were available in advance of its super "secret" opening, and they sold for $35 a piece.
The Museum of Pizza showed off pizza box designs from years gone by. It even had a gift shop and sold individual slices New York-style for just $1 per slice if you wanted more than the one included in the price of admission. Like it did when it originally opened or appeared in Brooklyn, The Museum of Pizza will again display "contemporary pizza art" when it (hopefully) reopens its doors at another location in the future.
The overall experience at The Museum of Pizza was designed to be both "immersive" and "very trippy." The Museum of Pizza was so innovative that it even featured a hologram of famed New York pizza tour guide Scott Wiener that taught visitors all about the history of pizza, from its initial conception to its current state. It should be noted that Wiener loaned some pizza boxes from around the world to the museum, which is noteworthy because the tour guide currently holds the Guinness World Record for his personal global pizza box collection.
The Museum of Pizza cost more than one million dollars to pull off, and it was sponsored by Hidden Valley Ranch. Anyone from the Midwest knows this pairing was perfectly natural as it's common to consume pizza with ranch dressing in the heart of America.
Rahma is hoping to find a permanent home for The Museum of Pizza in the Big Apple in the future. In the meantime, he's deliberating between launching an online series that's based on pizzas from locations scattered across the globe and starting a line of frozen specialty pizzas.
4. United States Pizza Museum
Kendall Bruns is the proud founder and director of the U.S. Pizza Museum. While the museum has been around in pop-up form for a while, the institution now occupies a space that's at least semi-permanent in the Windy City's South Loop area.
Rather than being appropriately sandwiched between pizza shops, the United States Pizza Museum is nestled between two popular women's retailers, a Victoria's Secret and an Ann Taylor Loft. The museum's floor space is just over 2900 square feet, which allows Bruns to display many pizza-themed artifacts.
Although the United States Pizza Museum is in what some may consider a "high rent" district, there is no admission fee to visit the museum. The museum does have a gift shop near its entrance. Bruns uses the proceeds from sales in the gift shop to cover the museum's operating expenses, although he's not optimistic the retail revenue will be able to cover the museum's ongoing expenses forever.
While the U.S. Pizza Museum houses memorabilia from earlier times, the institution displays an inordinate number of items from the 1980s and 1990s. According to Bruns, it was during those decades that pizza was able to make the crossover from kitchen table staple to pop culture icon. When you consider that pizza-related characters, clothing and video games started to appear in this era, it's easy to understand Bruns' perspective and why the museum has so much content from that time period.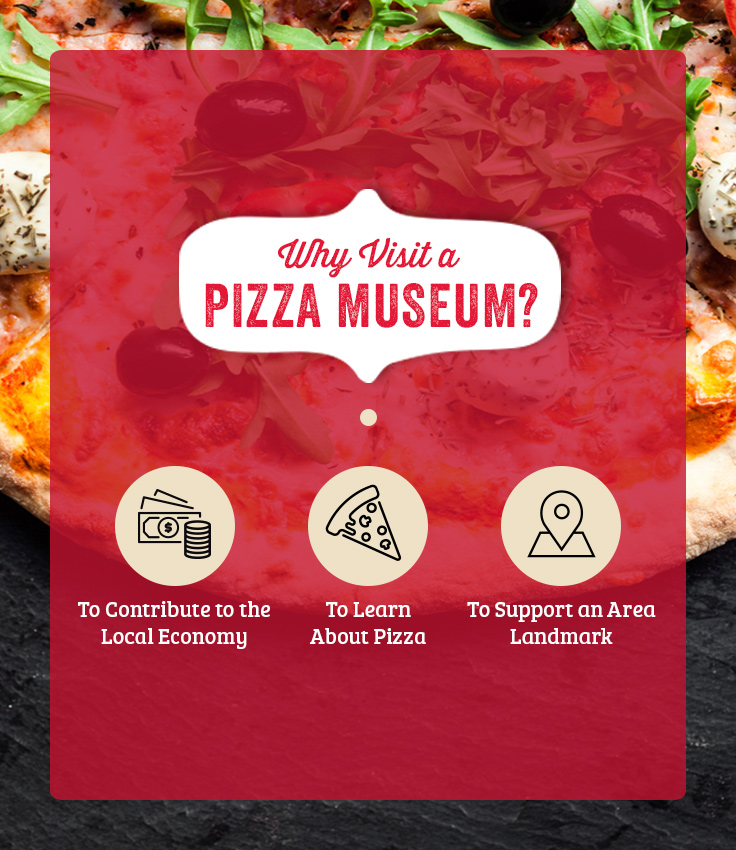 Why Visit a Pizza Museum?
For pizza lovers and true devotees, pizza museums are based on the food you adore. However, more fair-weathered pizza fans may need a little more convincing before they go out of their way to visit a pizza museum.
The main reason to visit a pizza museum is that doing so can provide some meaningful advantages. Here are a few of them:
To Contribute to the Local Economy: Whether you have to pay an admission fee, you purchase something in the gift shop or you enjoy a slice or two, you have the chance to contribute to the local economy when you visit a pizza museum. Is there a better, more rewarding way to spend your hard-earned money than re-investing it locally?
To Support What an Area Landmark: If you visit the Museum of Pizza Culture, you'll lend your support to an institution that has become a local landmark over the past seven years or so. By visiting the United States Pizza Museum and making a purchase in the gift shop, you can help preserve a semi-permanent museum that has the potential to evolve into a Chicago-based landmark or a curiosity at least.
To Learn About Pizza: Just like you don't have to be an art aficionado to learn something when you visit an art museum, you needn't be a pizza zealot to pick up some knowledge when you visit a pizza museum. Whether they display memorabilia, they present pizza in the form of contemporary art or both, pizza museums are places where any visitor can learn something.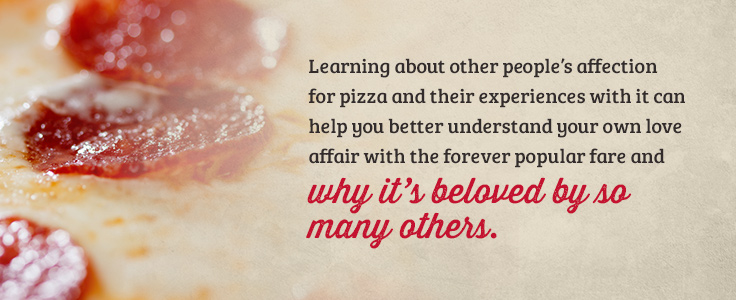 What You Can Learn by Visiting a Pizza Museum
As we just discussed, learning things you didn't know before is one of the most meaningful benefits of visiting a pizza museum. While you may readily agree with that, you might be curious about the types of things you can actually learn when you visit a pizza museum.
For starters, you can learn the original sauce recipe that was used by the Carney brothers if you visit the Pizza Hut Museum at Wichita State University. If the Museum of Pizza reopens its doors and you swing by, you can learn the history of pizza as told by a legendary NY pizza tour guide. When you visit the U.S. Pizza Museum, you can learn about all the design trends that become shockingly obvious as you look through the institution's display of pizza boxes and other artifacts.
At its core, pizza is a fascinating subject matter that can be discussed, presented and shown off in a countless number of ways. Depending on how a given museum approaches its subject, there is no end to what you can take away from a visit to a pizza museum, regardless of whether it's a pop-up, semi-permanent or permanent place of learning.
While the exhibits in any pizza museum will give you the opportunity to learn at least tidbits about pizza, it may be the museum's other attendees who'll give you the chance to learn about the food you love on a personal level. Pizza has a presence in many people's lives during dark times, celebratory moments and times they may not remember particularly well due to the beverages they chose to enjoy while they munched on pizza.
Learning about other people's affection for pizza and their experiences with it can help you better understand your own love affair with the forever popular fare and why it's beloved by so many others. When you consider pizza's humble beginnings as a poor person's quick meal, those insights will help you appreciate your position as a member of a global community of pizza enthusiasts as much as any informative or decorative museum exhibit ever will.
Visit Giordano's for Museum-Worthy Pizza
Of course, to understand why pizza museums have popped up in various locations in the United States in recent years, it will help if you try some museum-worthy pizza. And that's what you'll get when you eat at a Giordano's location — mouth-watering pizza that genuinely deserves to be celebrated.
Founded in 1974, Giordano's has been serving sought-after pizza for more than 40 years. With locations throughout the Chicago-area and additional pizzerias in multiple states like Indiana, Nevada and Minnesota, a Giordano's is rarely too far from your door. If you're not located near one of our eateries, you'll be happy to know we now ship our delicious stuffed pizzas to locations throughout the United States.
Visit a Giordano's location near you today. And even if there isn't a Giordano's close to you yet, place an order to have one or more of our famous stuffed pizzas shipped to your doorstep now.