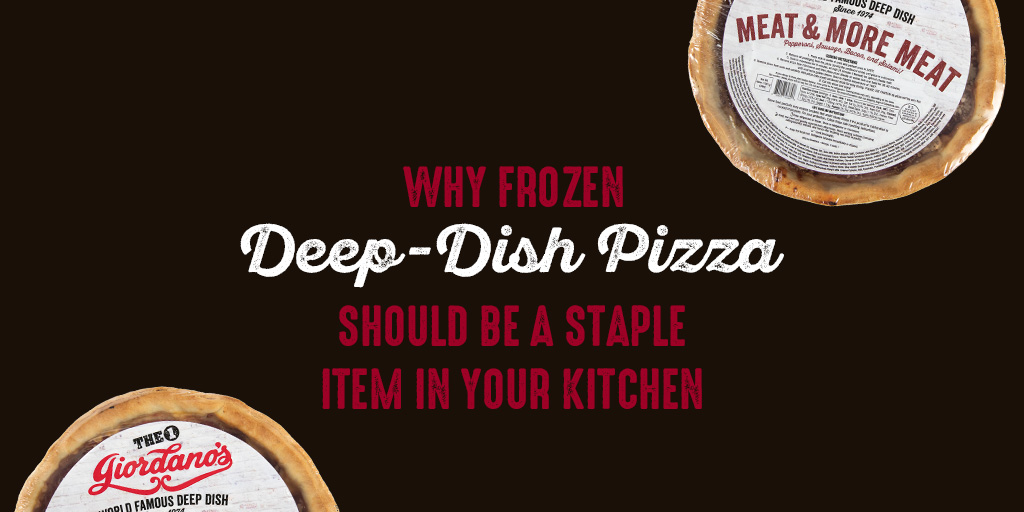 Whether you eat your pizza folded in half or stacked Tony Manero-style, it's no secret that a hot, melty slice is one of the best ways to treat yourself after a long day. So why not indulge at home? At Giordano's, we're on a mission to prove that frozen Chicago-style deep-dish pizzas are the ultimate comfort food, and this post will show you our evidence.
The Top 5 Reasons to Love Frozen Deep-Dish Pizza
We all know pizza is a popular frozen food item in the United States, and it's for a good reason. Frozen pizza is convenient, affordable and, above all, positively delicious. But at Giordano's, we think frozen pizza deserves a special place as the king of the frozen food aisle.
Let's explore why frozen deep-dish pizza is more than just a modern convenience — it's a kitchen staple.
1. It Makes an Easy Weeknight Dinner
From work to family to community events, we all know how crazy the average week can get. That's why a frozen pizza is so great to have on hand. On a busy night, you can pull it out of the freezer, throw it in the oven and have dinner on the table without tons of prep work. Plus, you can relax or get some housework done as it bakes.
When it comes to convenience, our signature frozen Chicago deep-dish pizzas take the cake…or should we say pie? Just pop yours in the oven at 325 degrees Fahrenheit for 45 minutes, and you've got a mouthwatering meal for the whole family.
2. Cleanup Is a Breeze
Did you know that washing dishes is one of the most despised chores in the United States? With so much other work to tackle during the week, finding the time and energy to clean up after an already long night of cooking can be a challenge.
So, if you want a delicious hot meal at home without the mess, a frozen deep-dish pizza is just what you need. After you've enjoyed your gooey, piping-hot slice, you can clean up in just a few minutes and focus on more important matters. There's no need to spend those extra hours washing dirty dishes or scrubbing your countertops. All you've got to clean up is the pan you used to cook your pizza and the plates you ate from — easy as pizza pie.
3. Frozen Pizza Saves Money (And the Planet)
We all know how frustrating it is to accidentally order way too much pizza, only for it to go bad before we can finish it. And wasting food hurts more than our hearts and wallets — it hurts the environment, too. As much as one-third of all the food we produce in the U.S. goes to waste, which releases millions of tons of greenhouse gases into the atmosphere every year.
Don't want refrigerated pizza every night for the next week? No problem! Having a small deep-dish pizza in your freezer gives you the ultimate flexibility over your meal planning, so you can prevent food waste without losing out on convenience. A 10-inch Chicago deep-dish pizza can feed two to three people, and it keeps fresh for up to six months in the freezer. It's perfect for couples or singles who need to shake up the menu every so often.
P.S. If you're looking for ways to make the most of the leftovers you've already got in your fridge, check out our list of ideas!
4. It's Perfect for Parties

Do you love to entertain? Frozen pizza is the perfect party food for all sorts of gatherings, including but certainly not limited to:
Movie marathons.
Birthday parties.
Wine or beer tastings.
Graduation parties.
Baby showers.
Casino nights.
Murder mystery parties.
Halloween costume parties.
Football watch parties.
What better meal to serve at a Chicago sports viewing party than a frozen Chicago deep-dish pizza? With its inch-thick walls of crust and gooey cheese filling, this unique dish is a real crowd-pleaser at any gathering. Plus, it makes a tasty pairing for pasta dishes and a whole host of appetizers, so you can easily make enough to feed the whole crew.
It's also a fantastic option to bring to potlucks. As long as your host has an oven, you can just bring your frozen pizza to the party with you and let it cook while everyone socializes. Make sure to bring your favorite beverage along to really round out the meal.
5. It Has Surprising Health Benefits
Did you know indulging in the occasional deep-dish pizza can help improve your mental well-being and mood? It's true!
Eating comfort foods like pizza triggers the release of dopamine, which is a "feel-good" chemical in our brains. So when you treat yourself to your favorite deep-dish pizza, you're also treating your mind to a little well-deserved relaxation. Seeking comfort foods in times of stress can make you feel immediately better, and it's totally OK to seek these foods out sometimes!
There are also so many ways to make your pizza healthier. Take our spinach-stuffed Chicago deep-dish pizza as an example. Spinach is loaded with vital nutrients like iron, dietary fiber, potassium and magnesium, and combining it with calcium-rich mozzarella cheese and lycopene-packed tomato sauce creates a delicious and nutritious meal.
Deep-Dish vs. Regular Crust: Which Frozen Pizza Is Better?
Have we given you a hankering for pizza? If you're already planning your next shopping trip, you might be wondering what kind of frozen pizza would be the best addition to your cart. Most of the options you'll find at your local grocery store are going to be your standard New York-style flat-crust pizza. And while we love all kinds of pizza, we think it would be wrong of us to leave you without some tasty advice.
Look, we may be a little biased, but we believe deep-dish pizza is the superior frozen pizza. With a thick, chewy crust that provides room for tons of cheese and toppings, a Chicago-style deep-dish pizza is far more satisfying than your average thin-crust pie. Not to mention that you don't have to blot off all the excess oil off your slice before digging in.
Order Frozen Chicago Deep-Dish Pizza Online From Giordano's
All this talk of Chicago-style pizza probably has your mouth watering, but what can you do when you can't find your favorite pie at your grocery store? We're thrilled to inform you that, thanks to modern technology, you can now order frozen deep-dish pizza from Giordano's online. And with four flavorful varieties to choose from, you could eat our pizza every night without getting bored.
We ship our 10-inch frozen pizzas to every U.S. state, including Hawaii and Alaska. Click here to shop our online store today!