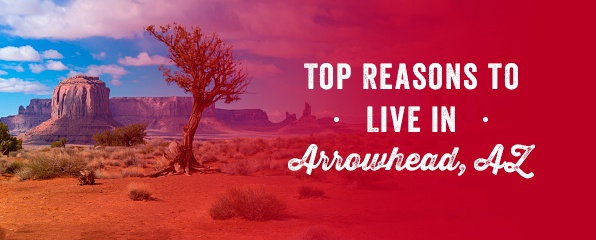 From a warm climate to plenty to see and do, you'll find a lot of reasons to live in Arrowhead, AZ. As you begin your search of places to live in Arizona, add Peoria and Arrowhead to the list. The areas sit less than 30 minutes from bustling Phoenix, but you'll also find many activities to participate in if you stay in town.
If you've been weighing the pros and cons of living in Arrowhead, AZ, consider the list of top reasons to live in the area. We've gathered some of the best cultural experiences, family attractions and more the Peoria region has to offer, so read on for a glimpse into this outstanding area.
The History of Arrowhead and Peoria
If you plan on living in Peoria, AZ, it's worth learning a bit about the history of the city. Everything kicks off with William John Murphy encouraging others to come to the town, which two settlers did in 1886. Many families who formed the new community around present-day Arrowhead were from Peoria, Ill., hence the Arizona town's name.
Settlers looking for a practical way to live and thrive in the arid Arizona conditions constructed early canals and dams to hold water for use in the town. The community would later build a town well and water tower, which served as a landmark to those passing by Peoria.
Two years after the first settlers, the town of Peoria made a name for itself with the addition of a post office in 1888. To further accommodate the residents, the McLaughlin brothers opened a general store that sold groceries. While the store saved the community a trip to Phoenix for supplies, it closed after two months.
The railroad line that passed through the town provided another shot in the arm for the burgeoning town. William John Murphy encouraged the community to create a right-of-way along Grand Avenue. It wasn't enough for trains to pass through the area, though. Peoria then convinced the railroad company to create a small depot in their town. The company allowed it, and the depot became a regular stop for the train, which permitted residents to:
Ship cattle and crops from town
Get building materials like wood and tin
Replace their undependable stagecoach mail delivery system with a reliable one
Around this time, Peoria had a population of 27, but that would soon rise, especially with the economic growth the railroad brought. As the population grew, the community constructed Central School in 1906. The school operated for 70 years before it became a cultural attraction.
In 1954, Peoria became fully incorporated, and a couple of decades later in 1970, the population only reached 2,500. Still, if you were to walk the streets of Arrowhead and Peoria in the 1970s, you'd find all the amenities you'd expect to see in a self-sufficient town. With its small size came a warm-hearted community, which remains today as the city continues to grow. Currently, the population is over 170,000, and Peoria continues to improve.
A rich history and growing community alone are great reasons for living in Peoria, Ariz., but you'll find so much to do in the town and nearby Phoenix.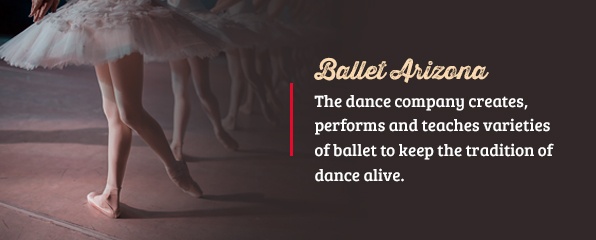 Shopping, Art and Museums in Arrowhead and Peoria
Take a stroll or drive through Peoria, and you'll find plenty to do and see. From shopping centers to museums and art, Arrowhead and Peoria have something for everyone.
There's no shortage of shopping options for Peoria-area residents. Spend the day at some of the popular shopping centers throughout the city, including the following.
Peoria Eighty-Three: You'll also hear locals call this center the P83 Entertainment District. If you're looking for entertainment along with your shopping, you can't go wrong with P83. The center hosts events and festivals throughout the year. It's also such a large district that it contains two shopping centers — North Valley Power Center and Arrowhead Crossing. You can visit plenty of times and almost always have something new to do and see.
Park West: This lifestyle shopping center has quietly built a reputation as the best-kept secret of West Valley. Despite the secrecy, the center contains over 30 restaurants, a movie theater and plenty of shopping options. You can even relax in a shaded Bali lounge or around one of the outdoor fireplaces on cool winter evenings.
Lake Pleasant Towne Center: For a mix of local boutiques, large retail stores and eateries, visit this center. No matter who you visit with, you'll all find something you want. The center is only minutes away from Lake Pleasant, so visit before or after a trip on the water to fill out a day of fun.
If you're all shopped out, you have plenty of other entertainment options in Peoria. Check out these other cultural must-sees, as well.
Theater Works: Enjoy the thriving performing arts scene when you're living in Arrowhead, AZ. Theater Works is a nonprofit that hosts over 200 events throughout the year. Visit for classes and festivals or watch performances of comedy, dance, concerts and live theater. Support the theater's mission to provide an enriching theater setting to artists, children and patrons with your visit.
Arizona Broadway Theatre: Catch a Broadway-style production at this venue that sits steps from the Peoria Sports Complex. As a bonus, you can enjoy bar and dinner services with the show. Along with being a performance space, the venue can also serve as a space for special events.
The Peoria Art Gallery: Take in a bit of visual art in the bustling city. You'll find the gallery on the first floor of Peoria City Hall, and, to make it even better, admission is free! Enjoy the gallery operated by the West Valley Art Museum as you explore your new town.
Those venues are the beginning of everything you have to look forward to around Arrowhead. If you want to make the quick 30-minute drive into Phoenix, you have even more cultural experiences to enjoy. Don't miss the following.
The Heard Museum: This museum, dedicated to the advancement of American Indian art, has gained international recognition for its exhibits and collections. Witness a range of traditional and contemporary art on your visit to the Heard Museum, and support its collaborations with American Indian artists.
The Phoenix Art Museum: Visit the largest art museum in the Southwest. The Phoenix Art Museum hosts over 19,000 works in their permanent collection, and features a calendar of exhibits to plan visits around throughout the year. Its collection includes works from fashion design to modern and contemporary art, along with pieces from around the world. You'll see works from Asian, European, Latin American, American artists and more.
The Challenger Space Center of Arizona: If you prefer cultural experiences on the scientific side, head to the Challenger Space Center of Arizona. The museum is perfect for families with children, as it uses simulated missions to cultivate communication and teamwork skills
Phoenix also offers plenty of performing arts venues to residents of Peoria and Arrowhead. While the city itself has plenty of theaters and other places to catch a live performance, a visit to Phoenix reveals even more options. Catch a performance by the following.
Arizona Opera: The Arizona Opera puts on performances throughout Arizona, but you'll be able to catch a stunning show in Phoenix venues. Take in the culture with an opera performance or concert by the talented company.
Ballet Arizona: Celebrate classical dance with Ballet Arizona. The dance company creates, performs and teaches varieties of ballet to keep the tradition of dance alive. Watch a magnificent performance at either Symphony Hall or the Orpheum Theatre in Phoenix.
The Phoenix Symphony: Listen to performances ranging from classical to pop music. Since 1947, the symphony has been providing Phoenix and other Arizona locations with full-length performances. Visit Symphony Hall in downtown Phoenix to see a show.
So why move to Arrowhead, AZ? Well, with just a half-hour separating Peoria and Phoenix, you can easily make plenty of day trips between the cities. Jam-pack a day with cultural experiences, or save going to shows for special occasions. Living in Arrowhead, Ariz., gives you easy access to the offerings of both Phoenix and Peoria. Along with the cultural sights and shopping, you'll also get the chance to experience plenty of family fun.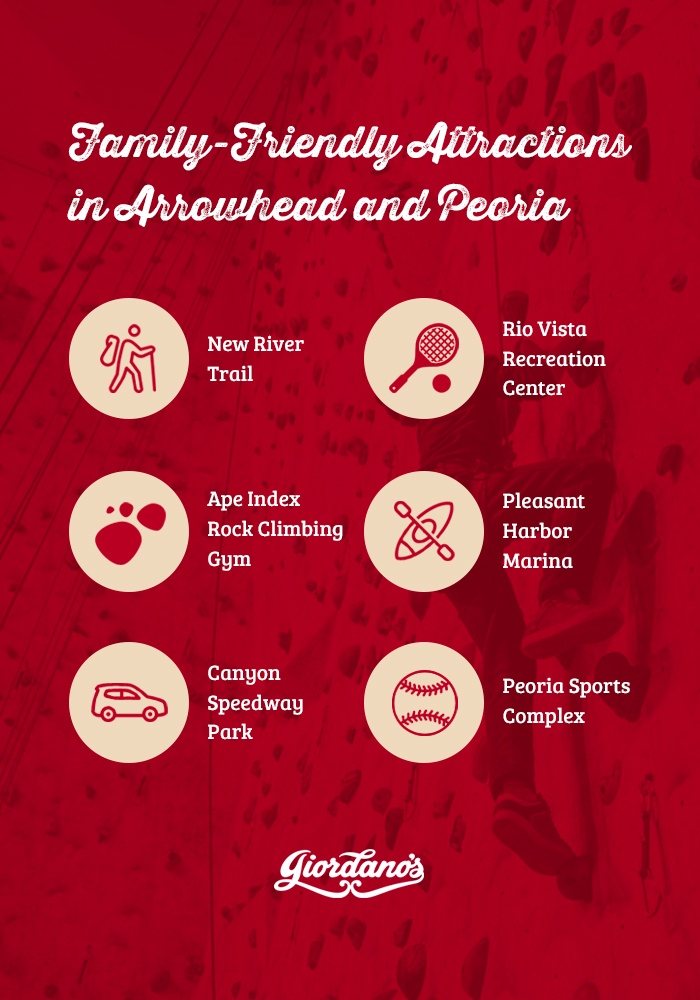 Family-Friendly Attractions in Arrowhead and Peoria
One of the top reasons to live in Arrowhead, AZ, is the proximity to family fun. You'll find indoor or outdoor adventures and exciting entertainment, which would even be perfect for those without kids. Whether or not you're bringing a family along, check out attractions in Arrowhead and Peoria.
New River Trail: Trek the 13-mile trail that extends through Peoria. The paved path is well-suited for families taking a casual stroll, bike riders or joggers. However you traverse the pathway, you'll wander through residential, business and natural areas.
Rio Vista Recreation Center: The indoor recreation center serves to engage residents in a healthy lifestyle. It's home to Peoria's first indoor climbing wall, indoor racquetball courts and public gymnasium, where residents can gather for activities and events.
Ape Index Rock Climbing Gym: For more indoor activities, get ready to climb the walls. If you're new to rock climbing, the on-site instructors will guide you through so you can have a fun and safe time. The climbing gym is also home to an array of unique climbing features, perfect for skilled climbers or those looking for a challenge.
Pleasant Harbor Marina: There's no shortage of adventure at the marina. Rent kayaks and paddleboards or go on a variety of cruises on Lake Pleasant. Companies offer private or public cruises with dinner and music options to accompany your scenic tour of the lake. You could always take a stroll past the marina if you don't feel like heading out on the water for some pleasant views.
Canyon Speedway Park: If you prefer to watch the action, Arrowhead and Peoria have something for you. The speedway park hosts a wide range of racing divisions that all make for a day of family fun. Grab some snacks from the concession stand at the raceway and get ready for excitement!
Peoria Sports Complex: Families with sports fans can get their fill of entertainment when living in Peoria, AZ. The complex features seven lit fields, four half-fields and a lot of practice areas for major and minor-league baseball teams.
The excitement continues at the family-friendly attractions throughout Arrowhead and Peoria. While year-round warm climates mean you can enjoy outdoor activities almost any time of year, you also have indoor options for hotter days. Bring the family or visit the attractions with friends. Either way, you're sure to have a memorable time!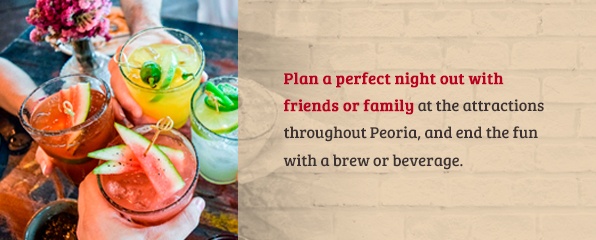 Restaurants and Dining in Arrowhead and Peoria
The variety of experiences and adventures in the area will undoubtedly leave you hungry. Luckily, Arrowhead and Peoria offer an array of dining options, along with spots to grab a drink. Start your day with a cup of coffee or end an evening with locally crafted beverages. No matter your tastes, you'll find something in your new town. For drinks, visit:
Freak'N Brewing Company
Winery 101
Peoria Artisan Brewery
Lucidi Distilling Company
Driftwood Coffee Co.
Plan a perfect night out with friends or family at the attractions throughout Peoria, and end the fun with a brew or beverage. Want something a bit more substantial than drinks? Check out some local dining favorites like:
Firebirds Wood Fired Grill
Fleming's Prime Steakhouse and Wine Bar
Fabio on Fire
Cold Beers and Cheeseburgers
Haymaker Restaurant Co.
Restaurants throughout Peoria offer a range of American fare and other favorites. Whenever you're craving something specific, Peoria also has a variety of fare from around the world. Among the most popular cuisines in Arizona is Mexican food, which Peoria serves up at:
Abuelo's Mexican Food Embassy
Brushfire Tacos Y Tapas
Cafe Rio Mexican Grill
Caminero Mexican Restaurant
Carolina's Mexican Food
And more!
Arizona's specialties include anything from authentic Mexican favorites to fried rattlesnake. If you aren't feeling so adventurous, you'll still find something delicious in Arrowhead, AZ.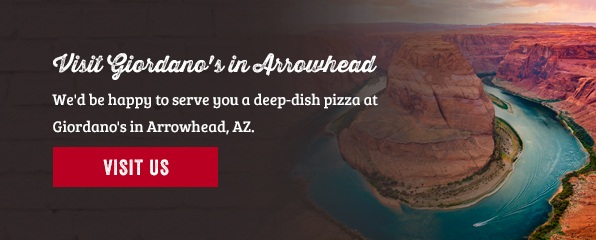 Visit Giordano's in Arrowhead
Maybe you're originally from the Midwest, or perhaps you want a taste of another region's favorite dish. Whatever the reason, we'd be happy to serve you a deep-dish pizza at Giordano's in Arrowhead, AZ. After your move, you'll want something filling and flavorful, and a stuffed deep-dish pizza from Giordano's is exactly what you need.
Even if you've been living in Arrowhead, Ariz., for a while, Giordano's makes a great stop for families or friends looking for a hearty meal. Take a look at our mouthwatering menu to see our stuffed deep-dish pizza, along with other favorites like thin-crust options, sandwiches and starters. Visit our Arrowhead location in Arizona after making a home in Peoria, or if you're passing through the Grand Canyon State!