When you're planning a family trip, you don't have to look outside of the U.S. to find fun and attractive places to visit. For example, there are plenty of things to see and place to visit in Ohio.
Whether you live near the state or are traveling from the other side of the country, you should make a point to stop at some of Ohio's attractions. From natural wonders to landmarks and other attractions, you'll find something the whole family will enjoy throughout the Midwestern state. Take a tour of Ohio and get started planning your family's next adventure today.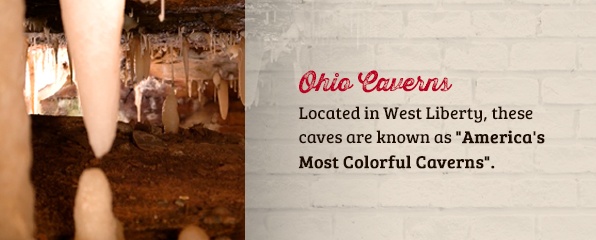 Natural, Beautiful Attractions in Ohio
Some of the most beautiful places to visit in any state are outside. Green meadows, rushing waterfalls and other stunning sights await, especially on a trip to Ohio. Take a break from the bustle of city life to explore some outdoor wonders. No matter your reason for visiting, you'll find something remarkable on your trip to Ohio if you know where to explore. A few must-sees are:
Old Man's Cave trail: This winding path is among the most beautiful hiking trails in Ohio. It's about a mile long, meaning you can get through it in less than an hour. Expect to make many stops for photo ops along the way. You're likely to feel like you've been transported into a magical world.
Ohio Caverns: Located in West Liberty, these caves are known as "America's Most Colorful Caverns." You'll find crystal stalactites and stalagmites throughout. The formations are thousands of years old. Ohio Caverns is also home to one of the world's largest and most perfect stalactites.
Brandywine Falls: Witness 65-feet of gorgeous, flowing waterfalls in Cuyahoga Valley National Park. Brandywine Falls are easily accessible, making them a must-see for anyone, regardless of hiking experience.
The Rockbridge State Nature Preserve's natural bridge: This natural wonder comes in the form of a 100-foot bridge. After millions of years of erosion and other natural forces, the bridge was formed. Visit the small town of Rockbridge to see what inspired its name.
Holden Arboretum Canopy Walk: Feeling brave? This walk spans 500 feet and is 65 feet above the forest floor, waiting for you to cross it. You'll get a unique view of Ohio's forests and wildlife as you walk among the trees. If you don't have a fear of heights and want to go farther, head to the Emergent Tower to see far above the canopy.
Glacial Grooves State Memorial: Located on Kelleys Island, these are the largest accessible glacial grooves in the world. Glacier movement in the past created the 400-foot long and 15-foot deep grooves, which are an amazing sight to see today.
Corkscrew Falls: This waterfall in Hocking Hills is located off the beaten path — literally. The falls aren't on the main trail, so it's best to visit if you're an experienced hiker. The waterfall is a hidden natural wonder in The Buckeye State and is worth a visit if you've got the hiking chops. It gets its name from the way it appears to twist as it falls down a cliff's side, making for a unique waterfall.
Ohio is perfect for a nature lover's escape. Adventure through the caverns and hiking trails, witness waterfalls and experience other natural wonders. All of these sights are among the most beautiful places to visit in Ohio, so bring your camera along and get outside.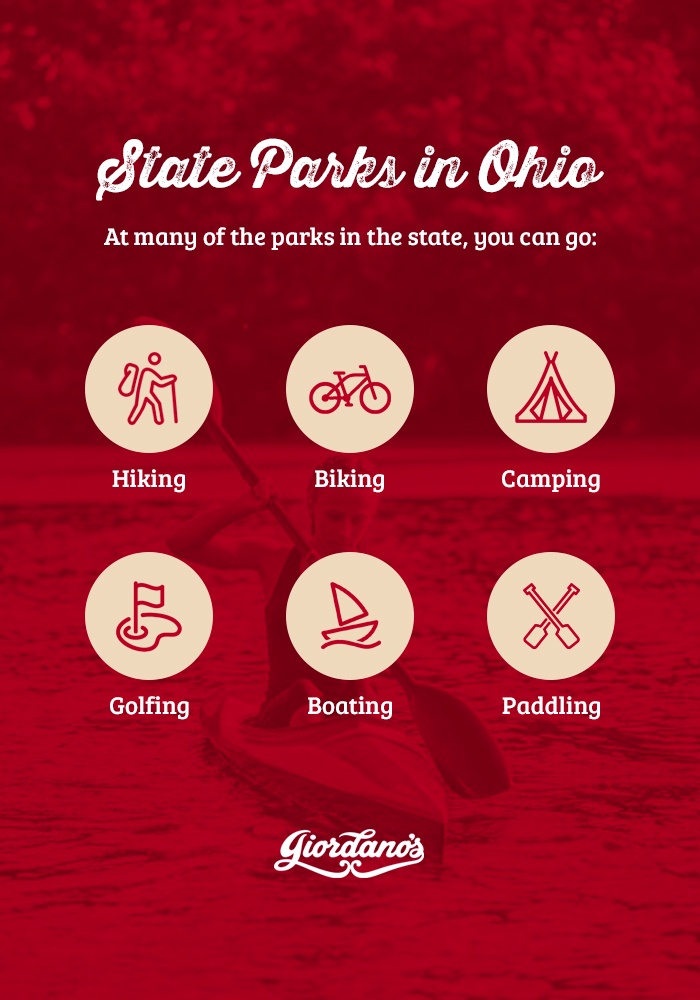 State Parks in Ohio
Want more fresh air? Check out the abundance of state parks in The Buckeye State. No matter where you are in the state, a natural oasis isn't far. At many of the parks in the state, you can go:
Hiking
Biking
Camping
Golfing
Boating
Paddling
With so many possible adventures, you'll want to visit at least one of the parks throughout the state. Even if you're visiting some of the major cities in Ohio, you may be able to fit in some time to visit one of the state parks. Check out state parks near the following cities.
Columbus: There are plenty of parks within an hour's drive of Columbus. Some of the parks closest to the state capital are Alum Creek, Delaware State Park, Madison Lake and Deer Creek. All of these parks are within 30 miles of Columbus. Alum Creek State Park is a popular choice for its 3,387-acre reservoir, perfect for boating trips. It's also home to Ohio's largest inland beach.
Cincinnati: You'll find six parks within an hour's drive of Cincinnati. East Fork, Stonelick and Caesar Creek are all within 40 miles of the city. East Fork State Park, one of the largest parks in Ohio, offers scenic views of hills and rivers along its trails. If you prefer a quiet camping retreat outside of the city, visit Stonelick State Park and relax by its lake. For some adventure, head to Caesar Creek State Park to explore the lakes, meadows and wildlife areas.
Cleveland: Explore one of the 12 parks within an hour of Cleveland. Visit Tinker's Creek, Headlands Beach or Punderson State Park, all of which lie within 40 miles of Cleveland. Check out the mile-long natural sand beach at Headlands Beach State Park for fun in the sun. If you aren't visiting during warmer months, head to Punderson State Park to enjoy the winter sports park, which features sledding, cross-country skiing and more.
You have plenty of options in other parts of the state if you aren't heading to Ohio's bigger cities, too. For a taste of rural life and peaceful scenery, check out parks scattered throughout the state, such as:

Historical Landmarks in Ohio
Step back in time and explore Ohio's history. The Buckeye State is home to buildings, structures and even entire towns that act as a time capsule. From simpler times to hard times, these sites will teach you and your family something about the past.
Take any history buff to one of these locations for a fun and educational visit:
The Rutherford B. Hayes Home
The James A. Garfield House
The birthplace of Ulysses Grant
The birthplace of Thomas A. Edison
Ida Saxton McKinley Historic Home
William Howard Taft National Historic Site
Warren G. Harding Home
Plenty of presidents and other notable individuals called Ohio home at some point in their lives. The state has preserved these locations, which you can now visit on your tour of The Buckeye State. If you'd like to walk on the more obscure side of history, there are many places in Ohio that come with a rich past, such as:
The Dexter Mausoleum: Created by an immigrant from the U.K. who sought to make his money in whiskey, The Dexter Mausoleum sits in Grove Cemetery. It is a beautiful piece of Gothic architecture in Ohio, a perfect quick stop for anyone who enjoys centuries-old structures and style.
Shawnee: The abandoned town of Shawnee serves as a time capsule to an era of miners. The town was built on the side of a steep hill and seems to be hidden.
Franklin Castle: For a supernatural twist on history, visit one of the most haunted sites in Ohio. The castle has stood in Ohio for over a century, and as time went on, it gathered more and more stories of tragedies and hauntings. See for yourself if the rumors are true!
Covered bridges: Covered bridges dot Ohio's countryside. If you're really into covered bridges, check out Ashtabula County's covered bridge festival, which takes place every year.
Ohio State Reformatory: This historical site was an active prison throughout the 20th century. You can tour parts of the prison thanks to its rise in fame after being used in the film The Shawshank Redemption. Check out the on-site museum whether you're a film or history buff.
Book Loft: The Book Loft in German Village, Columbus is one of the largest independent bookstores in the country. It's housed in several pre-Civil War buildings that were once a general store, a nickelodeon cinema and a saloon. Give yourself plenty of time to explore the store's 32 rooms full of books.

Ohio Attractions for the Whole Family
Ohio is a family-friendly place, full of things to do and see for people of all ages. With so many places to visit in Ohio, your trip is sure to bring joy to every member of the family. Check out some of the most popular, family-focused attractions in Ohio:
Along with these things to do, Ohio also offers plenty of museums that are perfect for exploring any time of year. No matter your family's interests, Ohio probably has a museum for you.
Visit Giordano's in Ohio
You'll find fun for the whole family on your visit to The Buckeye State. With beautiful natural wonders and exciting places to visit in Ohio, everyone is sure to have a great time. As you explore the most beautiful places to visit in Ohio, you're sure to build up an appetite. After you've visited the natural sites, played in the parks and snapped a photo at the beautiful attractions, stop into one of Giordano's locations in Ohio. We have restaurants in:
We're proud to serve up a Chicago favorite throughout The Buckeye State. Get your fill of stuffed deep dish pizza or other favorites from pasta to sandwiches and thin-crust pizzas. Just as you have unlimited options for things to see in Ohio, we offer plenty of dishes to please any member of your family! Visit our Columbus, Canton or Beavercreek locations on your Ohio trip and get a taste of what makes us so popular in the Windy City!